If Her New Bangs Are Any Indication, 2012-Era Kim Kardashian Is Back In A Big Way
@kimkardashian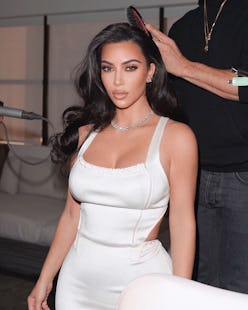 For all her wardrobe choices, dramatic hair colors, and an unflinching commitment to the bit, Kim Kardashian will forever be that same Calabasas girl who welcomed the world into her life on Keeping Up With the Kardashians so many years ago. She'll dabble in every extreme aesthetic imaginable, but there's something about Kardashian that makes her regularly return to her roots every so often, like some sort of glamorous, million-dollar moon cycle. Just look at Kim Kardashian's curtain bangs, part of a fresh new cut timed with the start of her self-declared "happy era." The flirty, layered haircut is undoubtedly among the 2020s' biggest beauty trends, but it's also strikingly similar to the long bangs she loved back in the early 2010s — if anyone can fuse the two decades, it's the biggest star of both.
Kardashian's haircut arrives on the heels of a new (old) hair color, too. Finally saying goodbye to the platinum blonde she first debuted at the 2022 Met Gala in May, she went back to her signature raven shade soon after her breakup with Pete Davidson was publicized. Taking her makeover a step further, celebrity hairstylist Chris Appleton added long, sultry layers to the fresh hair color, finishing it all off with center-parted, cheekbone-grazing curtain bangs.
The timing of Kardashian's bangs haircut is interesting, too. She's played around with every hair color and length under the sun, but largely excludes herself from the bangs conversation. Curtain bangs have been trending since early 2020 — a pandemic-favorite look for its low-maintenance shape — and reached a fever pitch the following year. Just when it seemed like the trend was over for good, in swoops Kardashian, pulling it back from the brink.
OG Keeping Up fans well remember Kardashian's 2012 version of the same look. More than a decade ago, she went for an equally-trendy long bangs moment, though they're parted on the side — a true hallmark of the era.
If Kardashian's new vibe is inspiring you to get creative with the scissors, there's no reason to not go for it. Part of the reason curtain bangs have been popular for so long is thanks to how universally-flattering it is on all face shades and hair types. Plus, you can always look at it like this — by the time you're halfway through a season of The Kardashians, the bangs will be grown out again anyway.