The Best Liquid Eyeliners For Cat Eyes & Every Look In Between
Rosdiana Ciaravolo/Getty Images Entertainment/Getty Images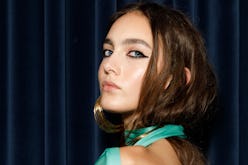 We may receive a portion of sales if you purchase a product through a link in this article.
Some makeup products, like lipstick, require very little effort to deliver a dramatic look. All you really need is a bold color and a skill level a step above applying chapstick to make it happen. Liquid eyeliner, however, generally doesn't fall into this category. From having shaky hands to quick-drying formulas that barely allow for mistakes, it is one of the more difficult products to master. But you don't have to be a professional artist to create an epic look – you just need the right tools. Today, the best liquid eyeliners take the frustration out of the application process so you can have a swoon-worthy look in the blink of an eye.
Given the ability to instantly define your eyes, create cool graphic designs, or a classic wing, liquid eyeliner has solidified itself as a makeup bag staple. These pens deliver a smooth precision that's unlike a traditional pencil liner, but that's not to say that formula isn't just as important. In fact, many of those available offer sharp, intense pigments and promise flake-free or budge-proof finish.
With so many options available, finding the right one for your skillset and makeup desires can be difficult. But the following list of editor-approved liquid eyeliners is a good place to start.
"I'll admit, the sage green tube is what immediately drew me to pick up Byredo's liquid eyeliner. However, the ultra-fine tip and inky pigment are why it's become a staple in my makeup collection. It's (nearly) foolproof for drawing sharp, precise wings – the only thing in the way is my shaky hand." — Erin Lukas, deputy beauty editor, TZR
"I love the idea of sharp black cat eye but am totally inept at giving myself one. So on an evening when I need to do my own makeup before going out (read: the majority of evenings) I prefer this liquid brown pencil. The mark-like tip offers a bit of definition, but the cocoa color is easy enough to smudge in a sexy, smoky way if (when) the line goes wiggly." —Alison Syrett, deputy fashion editor, TZR
"I have very deep-set eyes, which means any smudgy formulas end up all over my upper lids — a truly budge-proof version is essential, and this Lancôme liquid eyeliner really covers all the bases. Even with a full night of wear and no touch-ups, I arrive back home with it looking the exact same as it did when I first left. In terms of application, it doesn't get any more user-friendly than a comfort-grip pen with a firm, tapered felt tip. Personally, I'm partial to the deep brown shade for a not-so-intense look." — Amanda Ross, beauty editor, TZR
"I stopped wearing eye makeup for over a decade now but recently have come to love it again, starting with the cat eye, which I'm only able to achieve with a liquid eyeliner. I'm still working on perfecting this elusive design, especially with a less than steady hand, and I love how the Stila one offers the right pigmentation and liquid so I don't have to go over the same spot again. Plus, the inky black color isn't shiny or matte – just right in the middle." —Kathy Lee, editor in chief, TZR
"Liquid eyeliner isn't my top choice of makeup products, but when I do use it, I'm pretty loyal to this one by Clinique. The tip is ultra-fine which makes darkening my lash line a cinch. Though, I think what I love most about it is the color pay off. It's nice and dark without looking too matte and perfect for making my lashes stand out." —Jessica Fields, beauty writer, TZR
"I rarely leave the house without winged liner, and this one from Thrive Causemetics is the best of the many ones I've tried — mostly because it makes creating a sharp wing so easy. Instead of a felt tip, it features tiny bristles that naturally end in the perfect wing when you flick it out. I also like that it's buildable — just add more layers as you apply if you want an inkier payoff —and once it dries, the waterproof formula doesn't budge." —Faith Xue, executive beauty director, lifestyle, BDG
"I'm definitely no pro at a cat eye look, but because this liquid liner from Huda Beauty is so easy to use, my makeup usually turns out pretty decent (at least, I hope). All I do is add a few swipes to the corners of my eyes, and I'm good to go. And if I happen to mess it up, I can simply remove the product with a makeup wipe without it smudging all over my face." — Kelsey Stewart, associate fashion editor, TZR
"I usually opt for a light eyeliner look, so a formula that is buildable is essential. Thrive's eyeliner is just that, yet still highly pigmented with staying power. It includes a super fine precision tip that helps with a gentle application while ensuring my liner lines are smooth and mistake-free."— Rebecca Iloulian, director, newsletter revenue and marketing, BDG
"I'm not good at drawing cat eyes or dramatic wings. That said, I usually stick to lightly lining my lash line with a subtle black strip. But when fall arrives, I love busting out this copper shade. It's great for giving my look a little extra pop of color and the felt tip makes it incredibly hard to mess up." —Fields
"Product after product, makeup artist Pat McGrath always lives up to her nickname 'mother'. This ultra-fine tip liquid liner is perfect for drawing preceise designs or bold graphic wings. I love that once it dries down it truly does not budge or smudge. In fact, it's harder to take off than it is to put on." –Lukas