The Ultimate Holiday Mocktail Guide To Toast The Season
The holiday spirit, minus spirits.
Fresh Victor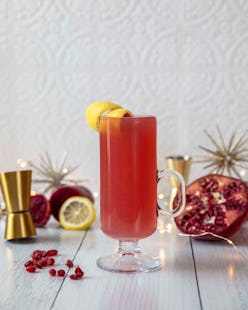 The holidays are a time to celebrate friends and family and indulge in food and festivities, which usually include cocktails. Over the last couple of years though, more and more people have been embracing an alcohol-free lifestyle. According to Liz Paquette, head of consumer insights at Drizly, share for the non-alcoholic category in 2023 has increased by 62% year-over-year compared to the same time period in 2022, and over 100% from 2021.
People are abstaining from alcohol for a multitude of reasons, but that doesn't mean they aren't up for a fun, well-crafted, holiday-themed beverage. Enter mocktails — and we aren't talking about a simple Shirley Temple here. We've enlisted a couple of experts to teach us about the world of mocktails and offer some pointers on creating the ultimate holiday drink guide so everyone can partake in the spirit of the season.
Elizabeth Gascoigne, founder & CEO of non-alcoholic bar experience Absence of Proof explains why providing an option for those who choose not to drink liquor is important, especially during this time of year. "Mocktails or non-alcoholic cocktails allow everyone to feel included, whether you're taking a night or a lifetime off of drinking," she says. "The holidays involve celebration and festivities, and the traditions of holiday parties and toasts shouldn't just be reserved for those drinking alcohol. Non-alcoholic cocktails provide elevated and healthier options for those who'd like to participate in the festivities without the side effects of alcohol."
Just because a beverage is alcohol-free doesn't mean it's boring. When creating or preparing a mocktail, the same level of care, creativity, and complexity are needed. H. Joseph Ehrmann, chief mixology officer at Fresh Victor, says he approaches mocktails the same way he approaches all the drinks on his menu and starts by asking one question, "Is it delicious?"
"Once we've gotten past that, we look at who it may appeal to, and why," he says. "Does the construct of the drink satisfy the need of the intended audience?" He shares that when providing a cocktail experience without the alcohol having a bitter, hot, or spicy component is helpful to duplicate the vibe of a boozy beverage. "Alcohol and bitter ingredients are two key components to why we can take 10 to 20 minutes or more to drink something that is only 10 to 12 ounces," he shares. Next, he says, for the mocktail experience to mimic that of a traditional drink, "All other considerations of a good alcoholic cocktail also come into play: appearance, aroma, glassware, temperature, etc."
According to Gascoigne, another important element to consider when preparing a mocktail is viscosity. "One of the most difficult things about crafting great mocktails is ensuring the body of the mocktail isn't too thin or watery," she explains. To combat this, she recommends including ingredients that thicken the liquid like coconut cream, egg whites or chickpea water (also known as aquafaba).
When it comes to mocktails for the holiday season, she's a bit of a traditionalist. "The most popular holiday non-alcoholic cocktails are typically eggnog-based, hot toddies, apple cider mocktails, cranberry mocktails, and peppermint cocktails."
Ehrmann is a bit more experimental and counts warm baking spice as one of his favorite ingredients to add to holiday mocktails. In terms of other ingredients for holiday-themed drinks, "Adding some apple or pear juice is a great way to introduce some seasonal fruit," he says. More recommendations include "tasty" El Guapo Sweet Potato Syrup and Trader Joe's pumpkin butter, which he shakes with Fresh Victor's Lemon Sour and a few shakes of cinnamon powder for a Pumpkin Pie Sour.
Holiday Mocktails Rules Of Thumb
Whipping up an elegant seasonal mocktail can be intimidating for those who haven't experimented with alcohol-free drinks, or even those who have and would like to elevate their concoctions. Not to worry, our experts have some tips that will make you a maestro of mocktails quicker than you can make your way to the naughty list.
For Ehrmann, there's one base for any holiday mocktail he encourages every at-home mixologist to use. "I really think a fruit juice base is the most versatile because you have so many additional types of ingredients you can add. Sodas are great too, but they generally come with their own flavor complexity (which is great on top of the juice) or they are tough to build on," he explains.
Gascoigne suggests something else. "Just keeping a great [non-alcoholic] pre-made cocktail like Mingle Mocktails in the fridge that you can easily pour into a glass." It also makes a great base and allows you to use your imagination and add other ingredients to create a signature sip.
Lastly, both experts offer some advice to elevate your mocktail creations. Ehrmann's list of pro tips is short and simple.
Don't be afraid to warm up things you might not normally warm up (like juice-based drinks).
Get a sodastream and start carbonating elixirs
Seek out teas that you like and try concentrating them (2 bags per cup instead of one) to get a more intense flavor.
Don't be afraid to shake dry spices into your mixes, especially powders.
Gascoigne adds, "I love adding fun and festive garnishes, a sugar or salted rim, some fancy ice, or gorgeous glassware. It takes any drink to the next level." And for those who want to go the extra mile for their holiday mocktails, "Invest in fun ice molds to avoid a non-alcoholic cocktail being too watered down."
Ahead, expert-approved recipes to make flavorful holiday beverages merry, bright, and booze-free.
Red Hot Punch (Hot Holiday Punch)
Ehrmann is a fan of this holiday punch that can be made individually or in batches for a large crowd. The sweet and tart juice combined with soothing spices and non-alcoholic whiskey will bring on all of the seasonal feels.
Ingredients (for a single 5 oz serving)
1.5 oz Non-Alcoholic Whiskey Substitute
.5 oz St. Elizabeth's Allspice Dram or 4 dashes Angostura Bitters
Glass: 6-8 oz hot liquid glass or mug
Garnish: Wide lemon twist or floating allspice berries for garnish
Instructions
Warm all ingredients on the stovetop or microwave (do not cook or boil). Adding hot water to heat the drink will dilute the mixture and lessen the intensity of flavor (not recommended but it's your call).
Cranberry Martini
"Nothing says holiday like a cranberry cocktail," Gascoigne says, "and I absolutely love starting with a base of Mingle Mocktails' Cranberry Cosmo flavor, then adding a bit of non-alcoholic gin, fresh cranberry juice, and a little lime for some kick."
Ingredients
2 oz Non-Alcoholic Gin of your choice
.25 oz Lime Juice
.25 oz Cranberry Juice
Optional Garnish: Dehydrated Lime, Cranberries, or Rosemary Sprig
Instructions
Pour all ingredients (except for garnishes) into a cocktail shaker. Add ice and shake. Strain into a martini glass and add your choice of garnish.
Spiritless Dairy-Free Eggnog
This beverage brings a dose of holiday tradition without booze or dairy. Lush and delicious, no one will notice the ingredients have been tweaked to be a sober and vegan-friendly option.
Ingredients
2 oz Milk Alternative
.5 oz Half & Half Alternative
1.5 oz JUST Egg
1 oz Simple Syrup
6 drops Non-Alcoholic Vanilla Extract
Pinch Ground Nutmeg
Pinch Ground Cinnamon
Directions
Shake vigorously without ice and pour into a punch cup or wine glass. Garnish with fresh ground nutmeg.
Spiced Apple
Spice up your life and your mocktail with this simple, flavorful holiday recipe. Winter vibes are in full force with apple cider and cinnamon, and the kick of yuzu and ginger gives the non-boozy beverage a unique seasonal twist.
Ingredients
4-6 oz Apple Cider
.5 teaspoon Cinnamon
.5 teaspoon Pumpkin Spice
Cut Orange, Apple, Cranberries, and Rosemary (for garnish)
Directions
Pour apple cider, cinnamon, and pumpkin spice in a glass and stir. Fill glass with ice. Top with Sanzo Yuzu with Ginger. Add garnish if you like.
Ginger Dreams
Samantha Tiews, bartender at LA's The Lonely Oyster, says that the Ginger Dreams was one of her "favorites to create" for her holiday mocktail menu. "The De Soi base has such a stunning flavor that played perfectly into an 'Aperol Spritz-esque' mocktail. The ginger syrup gives the drink a little savory sweetness without overpowering [the] bitter components I love so much."
Ingredients
1 oz Ginger Syrup, preferably homemade (heavy on the ginger when making the syrup for a good burn)
Top with chilled De Soi Champignon Dreams
Directions
Serve up with a crystallized ginger candy garnish.
The Cozy Blanket
This is a drink that lives up to its name! The cinnamon syrup shines and provides that feeling of being wrapped up in comfort whether you're at home in loungewear or out on the town in your holiday best.
Ingredients
1.5 oz Ritual Tequila Alternative
.5 oz Cinnamon Syrup
.75 oz Lime Juice
1 tbsp Pomegranate Seeds
2 dashes of Angostura Bitters (or your favorite non-alcoholic bitters)
Garnish: Lime Wheel
Directions
Muddle the pomegranate seeds with the syrup, bitters, and juice. Add all remaining ingredients plus ice and shake. Double strain into a glass over ice and garnish with a lime wheel.