Dua Lipa Cryptically Cleared Her Instagram Only To Reappear With A Whole New Look
The old Dua can't come to the phone right now.
Arnold Jerocki/Getty Images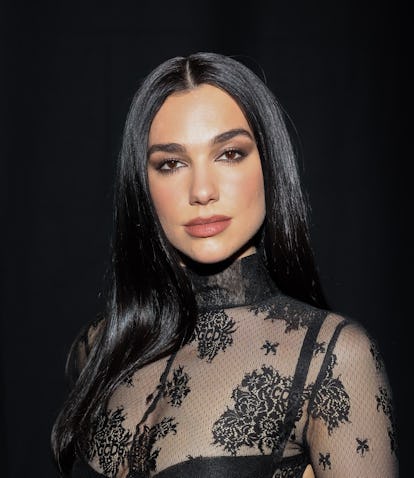 These days, a celebrity suddenly scrubbing their social media profiles can only mean one thing — a new era is upon fans, and it's likely to be a significant one. The now-common practice first took hold back in 2017, and has since become the preferred way for a star to announce an image-shifting album or project. In Dua Lipa's case, it's a springboard into something that seems seriously major. After archiving all of her posts and erasing her bio a few days ago, a new selfie of Lipa with red hair was the first thing to pop back up.
This is Lipa's first big aesthetic overhaul since she bid her dark-rooted blonde goodbye toward the start of her Future Nostalgia album cycle, and it's also her most dramatic shift. In the flash-style photo, you can see the dark cherry tones, a rich mix of browns and bright reds that just draw even more attention to Lipa's eyes. "Miss me?" she captioned the photo, ending her three-day Instagram hiatus. Further fueling the speculation on new music is the brief video posted to her story, which features a kaleidoscopic shot of her eyes and a link encouraging fans to sign up for her email list.
Not only is Lipa's new look a decidedly exciting one, but it's pretty damn trendy, too. Red hair always gets a uptick in popularity come autumn, but this fall has already seen an outsized number of stylish celebrities try the color out for themselves. The viral "Cowgirl copper" shade and its darker, moodier cousin, "mocha cherry", are especially in-demand right now — and with Lipa co-signing the latter, that's only going to ramp up.
This shade of dark, vampy cherry might be new for Lipa, but it's not her first time experimenting with red in general. Back in 2020, the singer tried out a neon take on the color, though it was relatively short-lived.
Only time will tell exactly what Lipa's plotting with her social media blackout. In the meantime, though, just enjoy this incredible fall hair color inspiration.