Why Hollywood Is Falling In Love With The Season's Most Romantic Updo
Kevin Mazur/WireImage/Getty Images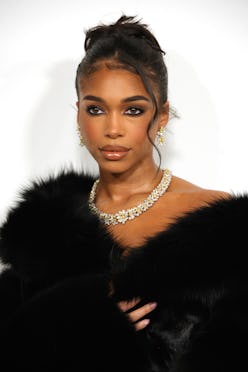 Even in Hollywood, few major events command the same aesthetic attention to detail as the Council of Fashion Designers of America's annual awards ceremony. A glittering affair thrown in honor of the year's most celebrated style stars — including both those who make the clothes and those who eventually wear them — it's the sort of affair that requires major head-to-toe planning, covering outfits, accessories, and how hair and makeup fits into all of it. Lori Harvey and Kim Kardashian had the right idea with their romantic, loose updos, the perfect complement to their dramatic gowns that also happens to be the year's top hairstyle in general. Though it's already been seen on so many A-listers at all the year's biggest gatherings, the impending winter season is actually an ideal opportunity to try it out at all those holiday parties.
At its core, the look is defined by the not-too-harsh gathering of hair right at the top of the crown, with plenty of loose ends and face-framing tendrils left out to flow freely — that last part is most crucial, though it's also the most customizable. At the CFDA Awards, Kardashian left a much larger swath of hair fall around her eyes, while Harvey took a more controlled approach by highlighting just a few carefully shaped ringlets.
Kevin Mazur/WireImage/Getty Images
Dimitrios Kambouris/Getty Images
While Harvey and Kardashian showed off the most textbook examples of the trending hairstyle, they were far from the only stars to wear it to the special event. Saweetie, Sora Choi, Jordyn Woods, and even Naomi Watts all went for loose, elegant updos with ethereal bits of bangs and layers surrounding their faces like extra accessories. Though they're each just different enough to further propel the individual wearer's personal sense of style, all of the updos are tied together by its two core elements.
Taylor Hill/FilmMagic/Getty Images
Taylor Hill/FilmMagic/Getty Images
Taylor Hill/FilmMagic/Getty Images
Think of the loose, romantic updo as the slicked-back bun's diametrically opposite twin sister. Have you ever seen that Mary-Kate and Ashley Olsen movie, New York Minute? One twin's room is ultra-femme and immaculately neat (slicked bun sister), while the other's is a chaotic, haphazard mishmash of rockstar posters and piles of cool, discarded clothes (loose updo sister). This spotlighted look is a way to embrace an elegant effortlessness without sacrificing any sophistication along the way.
Expect this to be one hairstyle that sticks around — through 2024 and beyond.