Eva Longoria's Latest Red Carpet Hairstyle Validates Your Hours Spent On TikTok
@evalongoria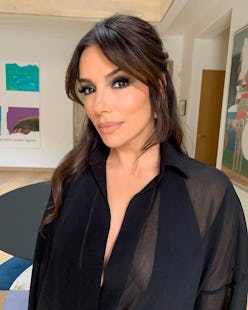 Even a star of Eva Longoria's caliber isn't immune to the siren song of the TikTok For Your Page. The next time you're feeling guilty about indulging in "just 10 more minutes" of scrolling before finally going to sleep, just know that inspiration for your next signature look could be just a few finger flicks away — and Longoria is living proof. Just last month, the Flamin' Hot director told TZR that her latest hairstyle obsession is also one of the internet's favorites, and she's been loving it since the day she stumbled upon it. Longoria's slicked-back bun has made a few public appearances already this fall, but it's never been better than the version she wore to the National Hispanic Media Collation's annual Impact Awards Gala, at which she was a special honoree. Even among her always-chic updos, this one is always a knockout.
An enviable mix of professional and polished with sultry and stylish, her look that evening is worth noting for all those holiday engagements on the horizon. But while Longoria's gone on-record saying that it was Sofia Richie Grainge's original tutorial that first got her hooked on the sleek updo hairstyle earlier this fall, her new take on the bun features a few special key elements that make it fully her own.
Dressed in a high-neck scarlet gown with a tie-back scarf closure, a glamorous updo was a brilliant choice from celebrity hairstylist Dimitris Giannetos. Paired with her intensely sultry smoky eyeliner-shadow-lashes combination, applied by makeup artist Elan Bongiorno, it's a brilliant extension of what you might call Longoria's signature look. Take a closer look at her bun, though, and you'll see that it's something extra-special.
Not only does Longoria's updo feature just a hint of center part toward her forehead like Richie's signature style — it extends just a few inches and is swept back for a non-severe look — but the ends are rolled into a smooth, ropey twist and wound around the base of her bun without any ends showing, making it look even more detailed and elaborate.
All in all, it's simply an elevated take on the "clean girl" classic that first took the Internet by storm in 2020. "It's crazy because it's just a bun, but I feel so beautiful with my hair pulled back and off my face, no makeup, just a lash and this hairstyle," she previously told TZR, adding, "It's changing my life."
Clearly, it looks just as stunning with or without makeup — but then again, Longoria makes everything look good.