Emma Watson Returns To Her Aesthetic Wheelhouse With This Dreamy Updo — But Not Without A Twist
She's always so flawless.
Jamie McCarthy/Getty Images Entertainment/Getty Images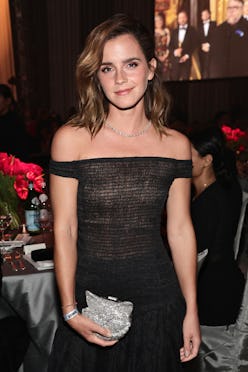 To say that there's a lot going on around town this week (and next) would certainly be an understatement. Despite the heat wave, New York City is electric with Fashion Week events, industry parties, celeb-filled brand events, and even a few award shows — like the one Emma Watson just attended celebrating Soho House's 20th anniversary downtown. True to form, though, her easy elegance combined with her keen eye for subtle edge made Watson's bun updo a serious red carpet standout, even amid all those other high-fashion happenings.
With her shoulder-length waves into a romantic topknot, Watson's look is almost like the upswept version of the pixie-mullet she just finished growing out. From the front, it's a straightforward, storybook-worthy bun, accented by long, side-parted bangs and delicate tendrils left loose around her pearl earrings. But when viewed from the side, the real fun is revealed. In profile, fans can see the way Watson's ends are arranged in a textured, almost feathered-looking manner, making the hairstyle look all the more intricate. Traditional mullet-ing calls for business in the front and a party in the back, but Watson's revamped version keeps much of the fun along the sides of her head instead.
Gilbert Flores/WWD/Getty Images
Arturo Holmes/Getty Images Entertainment/Getty Images
While it's as yet unclear which celebrity hairstylist is behind the stunning updo, it's undeniably a full 180-degree turn from the star's look this time last year. In October 2022, the usually-demure star arrived at a Prada fragrance event (she's a face of the beauty line) with her hair dyed and cut into an inky, choppy, pixie cut that immediately became her edgiest look ever — by far. Though the significant switch-up was a fun surprise, it wasn't long before Watson started growing it out, returning to her signature warm, golden-brown hair color. By Oscar night 2023, the "old Emma" was fully back.
Now, her Soho House Awards appearance finds Watson firmly back within her usual aesthetic wheelhouse. Romantic chignons, buns, and upswept braids are always a red-carpet go-to for the star, made all the better by the soft, shimmer makeup and princess-y gowns she also favors for events. But as she amply demonstrated with this updo, she's not afraid to keep some of that bold edge alive.