Kylie Jenner Is Reigniting The Short Nail Trend With An All-Time Classic Color
@kyliejenner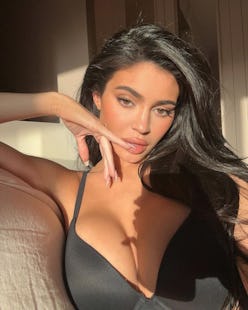 Kylie Jenner's love for TikTok cannot be understated. You'll find her on the FYP in the normal celebrity ways, posting things like get-ready-with-me tutorials and home tours, but she throws in the sorts of videos and comments you usually only see from your friends. For example, Jenner's reaction to herself with the infamous "old filter" feels bestie-level familiar. It seems like she might have also been perusing one of TikTok's most controversial debates if her newest manicure is any indication. Jenner's red nail polish is notable for a few different reasons, least of all for its alluring shade of bright cherry. Purportedly, the color makes the wearer perceptibly more attractive through the power of psychological suggestion — science is still out on that theory, but Jenner's nails are still worth copying.
Naturally, the Kylie Cosmetics founder posted clips of her manicure appointment to TikTok, where it racked up 8.5 million views in just a few days. Celebrity nail artist Zola Ganzorigt is seen coating a cheerful shade of cherry red over what just might be Jenner's natural nails. Though known for her long, ever-changing manicures filed into stiletto or coffin shapes, it seems like she's all-in on short nails right now and favoring a softly squared-off look.
Her TiKTok comment section on the video is essentially split into two rapturous halves: those gushing over the color, and those obsessing over her nail length. Short, natural nails never go out of style, of course, but they do cycle in popularity. Longer manicures will always stay in fashion, too, but more and more celebrities are opting for simple gel polish over more intricate looks this fall. Just compare the above to Jenner's take on red nails this time last year:
Now that Jenner's made it official with Timothée Chalamet, maybe this new manicure is her putting that "red nail theory" to the test. She could just be dialed in to the trending color in general. Pops of red have been seen all over the runways, spilling over into clothing, accessories, and beauty crazes alike. It's no coincidence that "strawberry girl summer" suddenly gave way to a fall filled with ginger hair colors and scarlet lipsticks. And Jenner would know that, too — if not from sitting front row than by scrolling her feed.