Kate Middleton's Best Haircuts Always Balance Trends With Timelessness
They're all fit for a queen.
WPA Pool/Getty Images Entertainment/Getty Images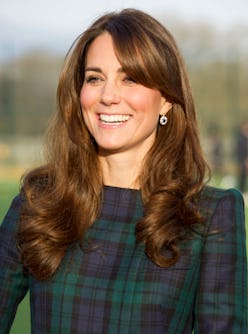 No matter how you slice it, Kate Middleton's been one of the most influential women on the planet from the day she started sporting that instantly-recognizable 12-carat sapphire on her left hand. There are plenty of reasons to admire the Princess of Wales — including her humanitarian efforts, polished ensembles, and steadfast chin-up poise — but nothing's comparable to the attention heaped on her glossy brunette hair. Middleton's best haircuts ever are all so timeless, yet consistently infused with just enough contemporary edge and trendiness to keep her millions of admirers on their toes. And while her overall aesthetic hasn't shifted much over the years, her creative styling and ever-evolving haircut keeps her look feeling so fresh.
Part of what makes Middleton so beloved is her relatability factor. She originally comes from wealth, for sure, but ultimately shares the same "commoner" (so to speak) DNA and background as the rest of us — she's has wild university years, thankless internships, inter-family drama, and even serious regrets over cutting bangs. If that's not a royal for the 21st century, what is?
Ahead, take a look back at some of Kate Middleton's all-time best haircuts, from her bouncy layers to sleek all-over lengths, and some surprising shakeups in between.
The Y2K-Friendly 'C-Cut'
Though a staple of the early 2000s, choppy-layered c-cuts have been a celebrity favorite ever since — especially with the look's resurgence in the 2020s. Middleton's version features the shortest layer curling gently under her chin, adding some subtle definition to her already-chiseled bone structure.
Her Shoulder-Length Curls
Believe it or not, this breezy cut, seen at Wimbledon, is the shortest Middleton's ever gone. Falling just past her shoulders, it was a pretty significant departure from the rib-skimming curls she usually prefers.
Coquettish Side-Bangs
One of the best things about curtain bangs is how easy they are to shift into an entirely different look. With Middleton's fringe grown out a bit and trimmed just right, she's able to part them into side-bangs and toss it all over one eye for a sweet-meets-sultry look that suits truly everyone.
All-Over Length
One of Middleton's most low-maintenance haircuts, her extra-long look almost completely belies the subtle layering toward the very bottom. Leaving a more defined cut in the past, this manageable cut makes it easy for her to wear her hair blow out, curled, straightened, and even natural (see below).
A Curl-Friendly Cut
If you know, you know — naturally curly and even very wavy hair requires its own, spiral-friendly cut, lest you end up with a poufy triangle of half-formed curls where your beautiful texture used to be. Middleton's shown off her air-dried hair a few times over the years — including during her younger university days — but these very long layers allow her thick waves to form in peace.
Bouncy Curtain Bangs
Although Middleton reportedly regretted getting these full bangs back in 2015 because they were too "mum"-ish (and rumors swirled that the Queen didn't like them, either), there's no denying the face-defining pieces work well on the Duchess. Their full, voluminous styling just brings more attention to her eyes, too.
Her Shoulder-Clearing 'Bob'
Fine, this one is kind of cheating. While Middleton didn't actually cut her hair into a short, traditional bob, she brilliantly faked it by tucking her curls up and underneath themselves. Though Middleton seems to love her longer lengths too much to ever really go for it, at least she knows it would look incredible thanks to some simulating styling.
Mid-Length Perfection
In 2019, Middleton opted for the perfect girl-next-door look with mid-length tresses, blunt ends, and a sweeping side part. A classic for a reason, it's as straight-forward and versatile as it gets.
This article was originally published on