Kate Middleton Went Full Storybook Princess With This Half-Up Hairstyle
Clive Brunskill/Getty Images Sport/Getty Images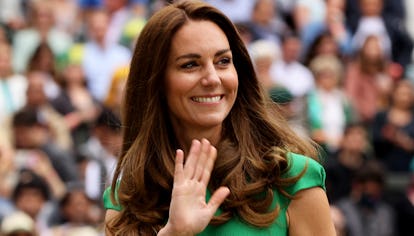 Save for a few high-profile stateside outings and anything happening on a polo pitch, the newly-minted Princess of Wales doesn't get the opportunity to flex her athletic-glam aesthetic at too many professional sporting events. Really think about it — if Kate Middleton started popping up courtside at every Lakers game, her adoring public would have at least 10 times more ponytail inspiration to reference. Frankly, that's as good a reason as any to keep the invitations flowing. Fortunately, there is a saving grace in the form of Wimbledon, where Middleton's half-up hairstyle is already making a statement.
Middleton and her royal family are always a major part of the annual competition, with her regularly presenting the top prizes to the winning athletes and watching the matches play out from her celebrity-studded viewing box. For the tennis tournaments' penultimate day of competition on July 15, Middleton struck a blend between her typical uniform of timeless, polished hairstyles and some strategic, heat-staving styling. The result is a cute, vaguely sporty half-up look that looks just as at home at a formal event as it does on the tennis court. And in fact, it's actually reminiscent of the hairstyle Middleton wore on her historic wedding day.
Karwai Tang/WireImage/Getty Images
Karwai Tang/WireImage/Getty Images
Interestingly, Middleton's dark, shiny hair retained it's soft side-part despite the pulled-back nature of the style, which gives it a casually glamorous feel, like she did it herself at her set with her fingers and a claw clip — that's all out the window, though, when you see the half-updo's elaborate backside. From that vantage point, you can truly appreciate the intricate nature of the hairstyle, including its thick, cascading curls and the clever layered twisting that keeps it all in place. You can't detect a single hair clip, tie, or pin in the entire thing, a seamless blend of fine loops and curls that feels more than a little in-line with the whole princess thing.
It makes sense that Middleton would save her very best look of the summer for her final day at the tournament, but now fans are just hungry for more. Fingers crossed for another red carpet imminently — she's on a serious hot streak.