Nina Dobrev Cut Her Bangs Just Minutes Before Her Red Carpet Movie Premiere
@nina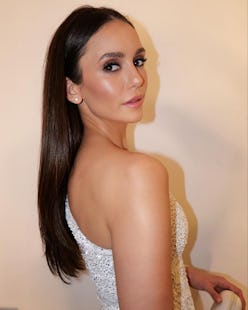 Almost everyone goes for an experimental haircut or color at some point in their life, but only the most daring decide to pull the trigger before a major event — you know those viral TikToks of brides chopping their long hair into bobs in between their wedding ceremonies and receptions? On Monday night, Nina Dobrev pulled the celebrity version of one such stunt when she opted for a seriously significant aesthetic change moments before hitting the red carpet. Dobrev's blunt bangs were cut by her hairstylist as she prepped for the premiere of her new film, and it's the sort of gutsy move that's actually pretty inspiring. Everyone loves to encourage others with "it's only hair, it grows back!" but seeing a star adopt that relaxed philosophy in real-time is more than a little refreshing.
Celebrity hairstylist Mark Townsend first teased the bang trim on his Instagram story before the premiere, laying out all the necessary tools for Dobrev's sleek, straightened premiere look along with a cheeky yet cryptic caption. Townsend worked on her glossy high ponytail the day before, so fans were primed for the big reveal. Ultimately, Dobrev and Townsend went with classic, lash-length pair of blunt bangs that blend beautifully with her long, even waves.
When it comes to cutting bangs, it doesn't get more A-list than Townsend and his high-profile sheers. He regularly works with Gwyneth Paltrow, Aubrey Plaza, and Riley Keogh, along with the final boss of all fringes: Dakota Johnson and her tapered "bottleneck bangs" that became her signature — and were subsequently adopted by half of Hollywood.
Before this game-changing haircut, Dobrev largely stayed true to long, shiny dark curls, waves, and blowouts — occasionally broken up with ombré color techniques, including her latest shade by colorist Matt Rez — and didn't shake things up too terribly often. That makes her eleventh-hour decision to snip her bangs all the more exciting — she's recommitted to a new version of herself, and something says it's going to be a treat to watch unfold.