Kate Middleton Transformed Her Entire Look Just By Changing Her Hair's Part
Chris Jackson/Chris Jackson Collection/Getty Images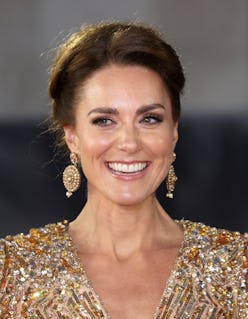 Despite the fact that she'll likely be Britain's ruling monarch at some point in the near future, Kate Middleton's always seemed grounded and even legitimately down-to-earth. Surely much of that is the royal protocol that prohibits too much flashiness — but the queen-to-be's latest look is as unabashedly glamorous as it gets. Middleton's new hairstyle is an all-over adjustment that tweaks everything from her bangs to her part, all while maintaining the same classic aesthetic that made her an instant beauty icon all those years ago.
Middleton clearly had an amazing day with her hair team last week, and photos really demonstrate just how impactful their work was. On September 9, after just a few weeks away from the camera lenses, she reappeared with palpably fresh cut complete with refreshed curtain bangs, long layers, and a brand-new center part. Middleton's former side part was one of her most enduring beauty choices, but it looks like she finally listened to all those TikToks and gave the Gen Z-approved shift a try. Some gold-toned highlights are visible in the bends of her hair, catching the English sunlight and adding cozy, fall-perfect dimension to all that glossy chestnut. Of course, so much of the look is wrapped up in the curls themselves — next to her fluttery bangs, the lush, well-defined curls immediately evoke Farrah Fawcett's signature fringe, just re-popularized as of 2020.
Not only does the center part better show off the long, universally-flattering bangs, but it offers a better look at Middleton's face from a head-on angle. It seems impossibly minor, but there's also a psychological element at play here. One 2010 study reports that the average woman will try more than 100 different hairstyles over the course of her life, but the reasons for change are what's especially interesting. Most said they simply wanted to shake things up, and hair is always an easy way to do it. Look at Middleton — she used a comb to move her hair part and immediately started channeling an entire new vibe. Just consider a photo of Middleton from earlier this summer:
Personally, the power of the part change immediately calls to mind an iconic tweet from Nicole Richie — in fact, Sofia Coppola originally wanted to open The Bling Ring with this quote:
And there you have it — change your part, change your life.