Kate Middleton's Coronation Outfit Looked Immensely Regal From Every Angle
WPA Pool/Getty Images Entertainment/Getty Images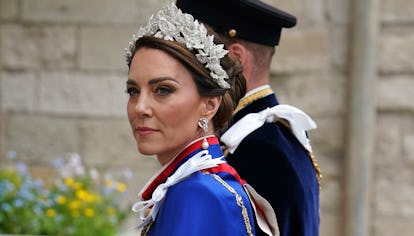 This week's internet chatter about the royals centered squarely on one topic: King Charles III's coronation. And on Saturday, May 6, the events kicked off bright and early with a procession to Westminster Abbey, where the official ceremony takes place. Of course, all eyes were on the immediate family members like Prince William, Kate Middleton, and their children as they headed to the church. Given the momentous occasion, the Princess of Wales put a lot of thought and care into her coronation day outfit. Middleton wore a white dress from Alexander McQueen underneath a multicolor white, blue, and red robe. According to the Chronicling Kate website, the ivory gown featured rose, thistle, daffodil, and shamrock motifs, symbolizing the United Kingdom's four nations: England, Scotland, Wales, and Northern Ireland.
As expected, Middleton's look spoke to her usual penchant for polished, elegant separates. Prior to today, the internet had mused on which British designer Middleton would wear, from Catherine Walker and Emilia Wickstead to McQueen, and the princess ultimately landed on the trusted latter. This shouldn't come as a surprise because 12 years ago, the house made her famous lace wedding gown and over the years, she's worn McQueen to numerous important events, including to Prince Harry and Meghan Markle's wedding back in 2018. (We love the commitment!)
She styled the overall outfit with an unmissable, crystal and silver leaf embroidered headpiece from Jess Collett x Alexander McQueen. To give a nod to Princess Diana on this big day, Middleton opted for the late royal's diamond and pearl drop earrings. Likewise, in an unexpected but cute moment, her eight-year-old daughter Princess Charlotte wore a coordinating Jess Collett x Alexander McQueen headpiece with a white McQueen dress and Mary Jane flats.
Meanwhile, Prince William wore a ceremonial dress uniform of the Welsh Guards while his son Prince George, the Page of Honor at his grandfather's coronation, rocked a red and gold uniform. The nine year old was one of the many people to hold up his grandfather's royal robe, as King Charles walked down the aisle at Westminster Abbey. As for Prince Louis, who's five, he adorably waved to the crowd on the way into the church and stood next to his mom at the ceremony in a deep navy outfit.
If the fashion you're seeing thus far feels more in line with that of a royal wedding than an over-the-top flashy celebration, there's a good reason for this. According to Business of Fashion, to make the ceremony feel more modern, King Charles purposefully wanted the dress code to be more pared back for his family and distinguished guests. Make no mistake though — there's still plenty of glamour to go around, as evidenced by Middleton's headpiece along with King Charles III and Queen Camilla's own looks.
The duo wore their finest pieces, with Charles in a military dress and silk robe recycled from the 1937 coronation of his grandfather, King George VI. Meanwhile, Camilla is reportedly wearing a gown by Bruce Oldfield. As for some of the royal accessories they'll have on post-ceremony, Charles will wear St. Edward's Crown while Camilla will wear a crown that once belonged to Charles' great-grandmother Queen Mary.
For those who are wondering what comes next after the ceremony, the newly crowned King Charles and Queen Camilla plans to travel back to Buckingham Palace. They, along with members of the royal family, will then appear on the palace balcony to watch a flypast of 60 aircrafts. So don't worry, you'll get another chance to see Middleton, and everyone else's, noteworthy outfits.