Kate Middleton's Favorite Jewelry Brands Include Both Luxe & Affordable Options
Here are the eight labels she loves.
Simon Bruty/Anychance/Getty Images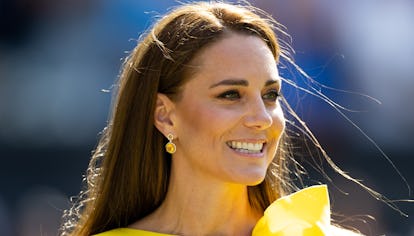 We may receive a portion of sales if you purchase a product through a link in this article.
Kate Middleton is a creature of habit when it comes to fashion, in that when she really loves a brand and its items, she will wear them relentlessly. If you follow her style, you'll likely be able to rattle off a number of examples here, like the time she rewore her Alexander McQueen gown to the 76th British Academy Film Awards or her penchant for Catherine Walker outerwear. Her loyalty to designers is to be admired and this devotion extends through all categories, from her clothes to her accessories. When it comes to jewelry brands, Middleton's approach is no different: she has several go-to's that we've uncovered.
Kiki McDonough is one British jeweler the Princess of Wales looks to for gemstone earrings and necklaces while Zara is her source for more budget-friendly finds like a statement floral ear piece. You'll notice that the royal has a nice mix of luxury and affordable brands in her accessories repertoire, which makes her all the more relatable to fans who want to recreate her looks. After all, the Kate effect — her ability to wear an item and have it instantly sell out — is still going strong, even in 2023.
Before we spoil anymore about what's in her jewelry box, scroll ahead to see the brands she wears on repeat. Should the pieces entice you to shop, we provided the exact item, or similar options if they're sold out, to add into your checkout cart.
Kiki McDonough
One of Middleton's most-worn jewelry labels is Kiki McDonough. In particular, she loves the British brand's selection of colorful gemstone earrings and necklaces. For fans seeking to purchase a specific style she loves, scoop up the Citrine Drops earrings. The royal was first spotted in the accessory in 2009 and since then, has worn them to over 40 engagements.
Above, back in June 2022 Middleton rocked the golden earrings with a white blazer and matching top while visiting the Little Village's Brent hub. Should your shopping budget allow for another purchase, pick up the company's Classic Cushion Drop earrings, too, as she owns these in four different colors, including green amethyst and white topaz.
Cartier
Middleton's schedule is packed with charity functions, galas, and royal tours, so a watch helps her keep track of time as she dashes from one event to the next. After all, you hardly see her holding onto her phone during public outings; instead, she's carrying one of her many dainty little clutches. For the Princess of Wales, Cartier's timepieces will always speak to her heart. One of her favorite watches is from the label's Ballon de Bleu collection. Above, she wore it with a yellow lace dress while visiting Germany in 2017.
Annoushka
Look closely at Middleton's ring finger and you'll always spot three pieces styled together: her sapphire engagement ring, a Welsh gold wedding band, and a white gold eternity ring. The latter is from Annoushka, a British fine jewelry brand based in London. She's worn several pieces from the label over the years, including a pair of pearl earrings, but the eternity ring holds a special meaning.
Traditionally, this style symbolizes a milestone in a couple's life, whether that be a 10th wedding anniversary or the birth of a child. Royal watchers noticed Middleton added the accessory into her permanent ring stack after giving birth to Prince George in 2013, so perhaps the ring honors her first born?
Accessorize
One of Middleton's beloved jewelry labels is Accessorize. She turns to this British brand for its gold earrings and slightly more colorful and playful options. The royal was first spotted in the "doorknocker" style from Accessorize in 2022, pictured above, when she visited the Foundling Museum in London. Sadly, this pair is sold out but you can shop a similar design online.
Laura Lombardi
Everyone needs a gold or silver necklace they can throw on without fussing over how to wear it, or if it matches that day's outfit. (The right piece always will!) Middleton often gravitates towards the chunky gold options from Laura Lombardi as they seamlessly go with her whole wardrobe. Here, she wore a chain necklace with a blue Chanel blazer and pants while sitting courtside at a basketball game in 2022.
Zara
If you're familiar with Middleton's style, you know her unwavering devotion to Zara. The royal has worn sweaters, casual pants, and even jewelry from the affordable Spanish brand. Here, she chose a statement crystal necklace from the chain to wear with her white dress at the royal film performance of "Mandela: Long Walk To Freedom" in 2013. More recently, back in February 2023, the princess wore cascading floral earrings ($28) to the 2023 BAFTAs, which promptly sold out minutes later — that's the Kate effect for you.
Halcyon Days
Although Middleton seems to wear earrings and necklaces much more than rings and bracelets, when she does decide on the latter, it's usually a piece from Halcyon Days. Back in June 2021, she wore a bangle from the brand while attending the launch of The Royal Foundation Centre for Early Childhood in London. She styled it with a cap-sleeve dress from L.K. Bennett.
Monica Vinader
For someone like Middleton, who is a classic dresser, pearl jewelry is a must-have. Her go-to source? Monica Vinader. Here, she wore the label's minimalist piece while visiting Copenhagen, Denmark in February 2022. What's cool about the necklace is that the pearl can be detached from the chain, should you event want a more nonchalant look. In addition, Middleton also owns a pair of these green earrings from the label.