Kaia Gerber's Baby-Sized Beehive Is Straight Out Of The Priscilla Presley Playbook
@kaiagerber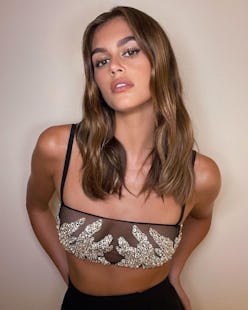 Austin Butler isn't the only one still transfixed with all things Graceland. More than a year after he played Elvis Presley in Baz Luhrmann's sweeping biopic, the actor still couldn't shake the King Of Rock & Roll's distinct Memphis accent. But it turns out that his girlfriend, Kaia Gerber, might have just been influenced by the project, too. On Nov. 14, the supermodel stepped out with her mother, Cindy Crawford, for an OMEGA fashion panel event looking straight out of 1967. Gerber's teased hair is tall and voluminous rather than straight-up towering, but it still incorporates all the essential elements of Priscilla Presley's legendary beehives — just baby-sized.
The true key to Gerber's vintage glamour hinges on the subtle, modern touches that keep the upswept hairstyle from looking like cosplay. The beehive's size is chief among them, with all that teasing kept to a manageable height. Then there's the softer structure of the style in general, complete with those face-framing tendrils left loose to flow around her face — it feels a bit more effortless and casually sultry, an all-important aspect for celebrity hair in 2023. Paired with her sheer Alaïa turtleneck and fall-friendly makeup colors courtesy of artist Nina Park, Gerber channels the perfect amount of retro charm.
Gotham/WireImage/Getty Images
Celebrity hairstylist Hos Hounkpatin constructed Gerber's teased French twist for the OMEGA event as well as Crawford's elegant, polished waves. The pair couldn't have chosen more opposite hairdos for the evening, but still looked more like sisters as they posed together on the red carpet. Even among Hollywood's most identical-looking mother-daughter duos, Crawford's genes are clearly next-level powerful.
The allure of '60s beauty is also going strong right now, influenced by period piece movies, runway fashion, and retro-tinged music. With the release of Sofia Coppola's Priscilla movie earlier in November, a new generation is clearly finding inspiration in Presley's sharp cat-eye liner, dramatically fluttery lashes, and major, major coiffures. Gerber's more subtle take on the overall trend is an ideal way to get started for those unsure where to begin, too. Try using a teasing-specific brush to truss up the underside of your updo, then lock it in with plenty of flexible hold hairspray. Instant '60s glamour is just a bit of backcombing away.