In Sofia Coppola's Priscilla, Hairstyles Are An All-Important Narrative Device
Take an inside look at the film.
A24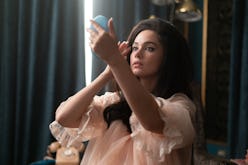 Priscilla Presley is an icon identifiable by silhouette alone. Though a stocking-foot 5'3", the prevailing image of Presley stands much taller, visually defined by the voluminous, towering hairstyles she wore throughout the '60s that would become part of her singular aesthetic and a cultural hallmark of the decade itself. But the real story of Presley's legendary hair only helps illustrate the true relationship dynamics explored in Sofia Coppola's new biopic, Priscilla. In the aesthetically dazzling film, Coppola and her crew, including lead actor Cailee Spaeny, depict Presley's physical and emotional development from her first moments as a vulnerable 14-year-old child plucked from obscurity, to the overnight-famous wife of superstar Elvis, to the resilient, self-possessed woman she still is today — and it's all reflected in her ever-changing hairstyles.
For Cliona Furey, the film's acclaimed lead hairstylist, viewing Presley's story through a distinctly female lens was key to getting a grip on the story overall. While Elvis, played by Jacob Elordi, looms large throughout the 110-minute movie, the Coppola-written script focuses firmly on his wife's reaction to him, and how the day's prevailing attitudes and the couple's unique situation plays out domestically. Unsurprisingly, many of the movie's most poignant moments revolve around Presley's beauty — her hair color, her styles, her body, her makeup, and how everything she does (or doesn't do) reflects right back on Elvis, the six-foot pompadour'd elephant in every room at Graceland.
Ahead, TZR speaks with Furey about how her creative process, collaborating with Coppola, wig work on s budget, and doing the real-life Presley justice.
The Challenges Of Biopic Beauty
So much of Furey's career has been dedicated to more fantastical, fictional work, but staying faithful to an actual, living person comes with its own set of particular challenges. First up, she tells TZR, was reading the film's source material: Presley's memoir, the best-selling Elvis And Me. Her background in the Elvis lore was relatively minimal, the same general amount of King of Rock'n-Roll cultural knowledge shared by most, but as a hairdresser, she says, she knew all about Elvis and Priscilla's legendary hair moments. "They're both huge icons for many things, one of them being their hair," she explains.
From there, Furey put together mood boards, cross-referenced real-life events against the script and memoir, and ruminated on Presley's experiences. "This movie appealed to me because [Coppola] was directing," Furey says. "You get a call to work with her and you don't question it. It was really nice to read [Presley's book] again and to really look at her as a female. Me being a female, looking at her story and her journey as a little girl going into womanhood and what that must have been like for her." That particular, centering perspective is always at the heart of Coppola films, and the major marker that separates Priscilla from other projects in the vast Elvis mediascape. "Our movie was not about Elvis and his public life and his stage life," Furey says. "It was about her journey as a female and their little private moments."
Accordingly, Furey was given an interesting creative challenge. Throughout the film, she's painstakingly recreated Presley's ever-changing hair to match their family photos, but many of the scenes were depictions of moments never actually captured on film. "I had to find a balance of trying to not imitate Priscilla, to find the essence of her taste in a way that worked for [Spaeny], but also hit those beats in the movie where we do have historical, iconic moments [to] cover."
Cycling Through The '50s, '60s, & '70s
When audiences first meet Spaeny's Priscilla Presley, she's a 14-year-old student living with her parents on a West Germany Air Force base in 1959. The bulk of the film takes place throughout the '60s, a particularly notorious decade for hair, before concluding in 1972 when Presley is 27. Furey's task was not just to show the relevant trends Presley famously gravitated toward, but illustrate Elvis' direct and unspoken influence over her appearance. She says the production actually managed to use just five main wigs on Spaeny through filming, a surprisingly small number considering the extreme style fluctuations Presley undergoes. "The hair goes from a really natural color and style from a 14-year-old girl in her ponytail in Germany, and the hair gets longer and richer, the colors get richer, and it gets bigger. Then the makeup evolves and so do her clothes and her costumes, but then you see as we get to the '70s, it goes back down. It came back down to more of a natural color for the 1972 look when she leaves [Elvis.]"
Spaeny as Presley in '60s (left) and '70s
Furey also had to work with the production's 30-day filming schedule. "The challenge for me was, how few wigs can I do this with?" she tells TZR. "So each wig had transitions within [itself]. I would add extensions clip-in extensions to, say, the young Germany look, then I would make it a little longer to show her at the casino with the hair all teased — that's the same wig. I added some length and then rollers to set it and teased it."
The hair height in some scenes might seem like a structural miracle, but Furey says she employed plenty of old-school techniques actually used in the '60s like backcombing and teasing. Hairspray, though, had to be used very sparingly to keep the wigs workable for scene changes. Some days, Furey says, Spaeny was wearing between three to five different hairpieces.
Furey transitioned the wig Spaeny wears in early scenes (left) to the wig she wears right.
In one especially poignant scene, the audience hears Elvis instruct his wife to dye her hair a darker shade to match his and play up her features. For such a pivotal moment in the narrative, Furey says figuring out the perfect black was a lengthy experiment. "I spent days obsessing and coloring the wigs so that they were each different from each other. And the black wig in particular, I wanted it to be a soft black so that it didn't look like costume on [Spaeny]." She also had to take the camera into consideration, she says, as deep colors read even darker on-screen than they do to the human eye. She points to Presley's iconic wedding look, explaining that, while it reads as a true black on film, it's actually a softer shade with plenty of warm tones.
Smith Collection/Gado/Archive Photos/Getty Images
By the '70s, Presley's hair — and much of the world's — was flatter, lighter, and worn more naturally. "We tried to show that with the arc of Priscilla and her journey."
The On-Set Creative Process
Furey was clear about the primary challenge of this or any biopic. Her goal, one shared with Coppola, she says, was never to create a caricature or cartoon-ized version of the Presleys, despite their larger-than-life cultural presence — especially considering Priscilla is still alive. From her first Zoom call with Coppola before production kicked off, though, Furey said she and her director were on the exact same page. "I felt a connection right there...she didn't want to imitate them. She wanted something more organic, and that's her style. I felt the same way, I didn't want to create cosplay looks."
Furey continues: "Working with her is an experience I'll never forget and I'm really happy I had the opportunity." In just 30 days, Coppola, Furey, and the whole crew breathed new life into a story everyone thought they already knew.
Priscilla is in theaters everywhere Nov. 3