Iconic Runway Beauty Looks From Supermodel Cindy Crawford
Take the runway into the streets.
Daniel SIMON/Gamma-Rapho/Getty Images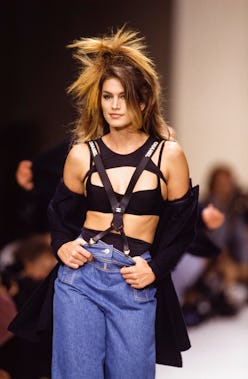 In the '90s, models obtained superstar status, with the entire world watching and coveting every move. They were invited to talk shows, seen at upscale events, and had their faces printed in practically every magazine. As one of the original supermodels, Cindy Crawford's influence was — and still is — unmatched.
Everyone wanted a piece of that signature Crawford glamour: defined, arched eyebrows, the red-stained lips, dramatic, full curls, and (of course) that beauty mark. She struck the perfect balance of Old Hollywood bombshell and girl-next-door — thanks to her go-to jeans and plain white tank top combo, and the world could not get enough.
Crawford's best beauty looks aren't just from commercials and magazines. The runway was where some her most iconic moments took place, as it allowed her to be more imaginative and over-the-top with her otherwise classic look. Over the span of several decades, the model has turned out some truly jaw-dropping moments, many of which are likely sitting in your vision board as we speak. Below, TZR collected some iconic runway moments to test out, if you dare, this fall. Do it for Cindy.
Thierry Mugler, Fall/Winter 1990
Twisted into a fiery bun, Crawford's hair brought the volume and drama here. Even the front piece becomes its own character, framing Crawford's face with edgy layers that draw the gaze downward. Matched with tightly lined lips, colored in earthy nude tones, Crawford glamour is unparalleled.
Calvin Klein, Spring 1992
Here Crawford walks for Calvin Klein, sporting the fresh yet clean look she became known for. Her thick, long hair is blown out and pumped with volume and her skin is sporting that no-makeup makeup flawlessness.
Giorgio Sant'Angelo, Fall 1992
Crawford usually sticks to natural, warm bronzy skin. Yet here, Crawford is highlighted and brightened to the gods, with her skin set with matte powder. The stark skin allow the moody dark maroon lip to take center stage.
Chanel Haute Couture, Spring/Summer 1993-1994
In all red, Crawford is giving Veronica Lake vibes with her retro curls, cooly swept to the side and over one eye.
Todd Oldham, Fall/ Winter, 1994
Just because this is a runway look, doesn't mean dramatic hair accessories can't be adopted in real life. As evidenced by Crawford's daring moment, the bigger the piece, the better the look.
Isaac Mizrahi, Fall 1994
In a rare updo moment, Crawford sports an interesting bow bun for Mizrahi's Fall 1994 presentation.
Chanel, Spring 1994
Crawford gets 'rough' on the catwalk, with shaggy layers pinned haphazardly across her head and crudely dyed streaks across her hair.
Chanel, Spring/Summer 1996
Crawford's hair is dyed and highlighted with golden browns. Although this look is 25 years old, it can certianly inspire those who want to jump on the Cowboy copper hair trend this fall.
Todd Oldham, Spring 1996
Crawford wears Todd Oldham, pairing her leather trousers and silk patterned blazer with metallic green eyeshadow and a piled-high, curled-out ponytail.
Valentino, Fall Couture 1997
Another rare occasion is Crawford as an icy blonde. Her gaze pierces through the roughly smudged liner and gray shadows, with contouring heavy against the cheekbone.