Jennifer Lopez's Latest Manicure Was *Made* For A High-Glam Wedding
Or, you know, a random Wednesday.
@jlo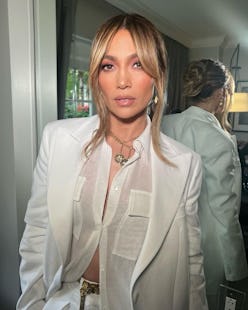 Jennifer Lopez never fails to bring all the feminine, sparkly vibes to her manicures, and it would be wild to expect anything less as she promotes her latest wedding-themed movie, Shotgun Wedding. For the film's premiere, the star worked with her go-to manicurist, Tom Bachik, to create a lip gloss-inspired nail look custom blended to match the tones, shine, and richness of Lopez's ideal lip product — and he shared exactly how he achieved Jennifer Lopez's sparkly French manicure.
In case you missed it, Lopez stepped out for last night's premiere in a sheer, floor-length gown by Maison Valentino that featured a yellow sash around the waist. With her dramatic smoky eyeliner courtesy of makeup artist Mary Phillips and intricate sleek bun by hairstylist Andrew Fitzsimmons, the singer-actress was dripping in glamour. The finishing touch, of course, was her glittery lip gloss manicure from Bachik. In an up-close shot posted to his Instagram, Lopez shows off her stiletto-shaped nails. The beds are painted a bespoke shade of nude, which Bachik mixed up himself to look like the sort of skin tone-glorifying shade Lopez would use on her lips. From there, Bachik topped off the look with a thin, laser-precise line of silver glitter along the tip of the nail, creating a subtle French manicure.
In the caption of the photo, Bachik broke down the steps to creating the look. "Prep is key to a longer-lasting manicure!" he writes. "I started first by giving Jen a meticulous mani with my Tom Bachik Ultimate Nail Care Set by @tweezerman." Next, Bachik applied Apres Nails Gel X nails in the style "Maisie", a natural medium stiletto, before softening the shape a bit to create a custom look.
"Next I custom-mixed the perfect lip gloss color just for Mrs. Affleck," the nail artist says. "A semi-sheer high gloss nude playing off her skin tone." The final step was applying a "super sparkly reflective gel glitter lining" for a strikingly glamorous French tip.
There's no telling whether the concept of "lip gloss nails" will take off, but given the influence that Lopez has had on beauty trends for decades now, it seems pretty likely. Regardless, there's no denying that adding a glittery accent to a shiny nude manicure makes for a stunning winter nail look — whether you're attending a movie premiere or not.