Jennifer Lopez's Casual Afternoon Updo Is Chicer Than Some Wedding Hairstyles
Just another day for her.
@jlo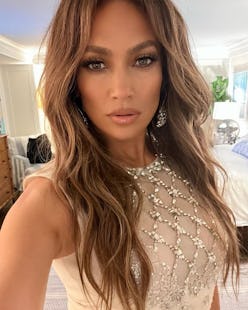 A wise man once said there's a famine of beauty, but even Jennifer Lopez's casual walks to and from her idling car could help turn it all around. It's an inextricable part of her brand at this point, but Lopez's glam-on-glam approach to hair, makeup, fashion choices, and her wildly versatile manicures makes even quick glimpses of the star feel red carpet-level exciting. Just look at Lopez's low slicked bun, styled for a quick midday lunch with her girlfriends at The Ivy — despite the relaxed nature of the meetup and the hairstyle's utilitarian sleekness, she took a few extra steps to ensure it felt especially polished. Kind of sounds like there's a life lesson buried in there, right? That's Lopez's aesthetic in a nutshell: extremely elevated versions of everyday favorites, which is why she's such a perennial beauty icon.
Amid the SAG-AFTRA strikes and the immediate shuttering of any and all red carpets, Lopez is delivering picket line-approved glamour. At her luxe lunch stop, she was photographed in a billowing scarlet halter dress, oversized aviator sunglasses, and a simple, baby-pink manicure. Her hair features a defined center part, carefully slicked down on either side for a smooth, glassy finish that doubled as a great way to show off her well-blended caramel highlights.
BG020/Bauer-Griffin/GC Images/Getty Images
BG020/Bauer-Griffin/GC Images/Getty Images
The real draw of Lopez's bun, though, is in its positioning. Most of the TikTok-famous versions secure the updo more centrally, while the simultaneously-trending ballerina buns require a taller topknot. Lopez's is decidedly relaxed, situated just above the nape of her neck for a more effortless feel. This look also puts any lingering rumors about her blunt bangs to rest — indeed, they were faux.
The slicked bun trend has been going strong through the bulk of the 2020s, beloved for its sharp, polished vibe and versatility — many make the updo out of unwashed hair to disguise the grime, or shellack strands with a deep conditioning mask before twisting it up. As Lopez aptly demonstrates, it's just as viable for a speedy day date as it is a big night out.
While it looks like fans will be waiting awhile for fresh movie premiere photos and star-studded galas to resume, at least there's plenty of beauty inspiration from Lopez — she always delivers.