Kourtney Kardashian's Chic '00s Updo Is The Unsung Star Of Her Maternity Aesthetic
@kourtneykardash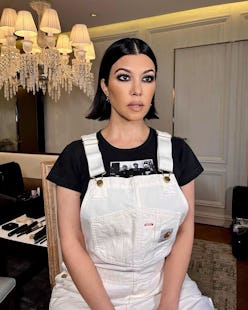 Anyone who watched Kourtney Kardashian's fertility challenges unfold on her family's Hulu series knows just how long she's been waiting to hold that sign up at Travis Barker's Blink-182 concert. Yes, Kardashian is pregnant with her fourth child — her first with Barker, of course — and is throwing herself into the exciting journey with so much deserved zeal. Already, she's putting the call out on social media for pregnancy-safe beauty product recommendations and showing off her chic maternity style along the way. Kardashian's slicked-back bun, accented by face-framing tendrils, just popped up on her Instagram Story, paired with a tall boots and a sheer, long-sleeved top stretched out over her growing bump. It's the perfect fusion of fuss-free utilitarianism (in addition to growing a new human, she has three others plus a few businesses to mind) and the chic, retro-inspired aesthetic for which the eldest Kardashian has always been beloved.
The Poosh founder uploaded the photo to her Story along with a question-box sticker asking her 222 million followers for their favorite clean body care brands safe for moms-to-be. She got tons of varying answers, of course, but plenty of would-be responders were surely distracted by her sleek bun and bump-baring pose in front of her husband's elaborate drum kit.
Kardashian's short, raven-black bob is brushed back into a mid-height bun at the base of her head, with her part divided down the middle. What takes the look to the next level, though, are the face-framing strands left loose and wavy, trailing down just past her jawline. It helps strike something of a comprise between an up-do and free-flowing hair, but keeps the bulk of it back and away from the face — an all-day, no-stress style that can easily transition from errand-running efficient to sultry for a date night with Barker.
Though she just publicly announced her pregnancy, Kardashian's already posted a few different looks that show off her edgy, rocker-esque maternity style. In a way, it's so classic Kardashian — only a week into the news and she's already delivered plenty of inspiration.