Jennifer Lopez's 'Latina' Nails Celebrate Her Rich Faith & Heritage
@jlo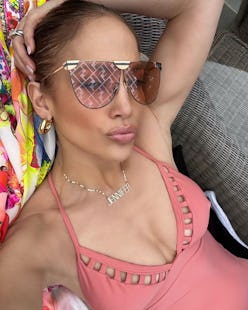 The ability to get vulnerable and wear your heart on your sleeve is a critical one for any creative, but especially a musician. Jennifer Lopez has built her entire brand on her capacity for getting real, but her latest manicure is especially grounding. In an intricate tribute to her Puerto Rican roots, Lopez's cross nail art combines classic Catholic motifs and iconography with stylized nods to her heritage — one design even features the word Latina in elegant script, while gleaming gold rings pierce others. After a summer-long streak of hyper-trendy, very minimalist manicures, this extreme attention to detail is a refreshing switch-up.
Like so many of Lopez's best-ever manicures, this new look comes courtesy of celebrity nail artist Tom Bachik. In an up-close shot shared to his Instagram, you can truly take in the sheer scope of the of the design. Along with pierced rings and decorative gems, Bachik created a very life-like depiction of the Immaculate Heart, a bejeweled crucifix necklace, and even la Virgen de Guadalupe. The gold foil effect carefully interlaid into the designs and choice 3-D touches make the manicure feel even more complex — it's the kind of nail art you can look at for ages, continuously noticing previously-overlooked elements.
While it's not immediately clear exactly what project the cross nail art is for — Lopez just captioned her photo set a cryptic "Happy Weekend!", albeit in Spanish — but it's almost certainly made for something big. The star largely sticks to more straightforward looks, even favoring more pared-down design choices when she does go for something more avant-garde. With her upcoming album, This Is Me...Now slated for release sometime this summer, there's a chance it could be a for a new music video. She's teased songs through her nails before, too, like the gold hummingbirds from her wedding manicure — lo and behold, there's a track on the new album called "Hummingbird."
While fans wait for theories and suspicions to be confirmed, Lopez's latest nail look is a great jumping-off point for summer manicure inspiration. If you're religious, why not celebrate the dramatic aesthetics with some cross or saint depictions of your own? And for everybody else, the nail piercings and rings — not to mention the twinkling, star-like constellations — are an easy way to add intricacy to even plain, nude nails. Lopez really does always deliver something for everyone.