Jenna Ortega's Most Impactful Hair Transformation Requires No Scissors At All
@jennaortega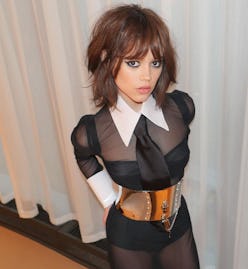 Frankly, it's hard to understand why everyone makes such a big deal about getting a set of bangs in the first place. Not only will they always grow right back out like nothing ever happened before you know it, but that in-between period is actually a pretty cool one — Jenna Ortega's grown-out bangs are proof, too, if you need any further convincing to just go for it. Back in 2022, Ortega first appeared at the Met Gala with an extremely trendy new look: curtain bangs. Long, slightly feathered, and beveled for a swoopy, effortless look, Ortega's fringe stuck around through all of her hair transformations since, including her choppy, shoulder-length wolf cut and the warm, cinnamon-toned color she's been loving all year. Only how have they started to change, slowly growing out to become an entirely fresh look altogether.
Ortega's grown-out bangs grabbed the public's attention when she attended a special anniversary dinner honoring designer Thom Browne in Los Angeles on Oct. 30. A far cry from the open-drapes look of her original cut and the more classic, straight-across fringe she eventually pivoted to, the long, blended bangs now near-seamlessly fit in with the rest of her layers, adding just a hint of shape and movement around her face.
Notably, the cut — or anti-cut as it were — hasn't fully reached the same length as the rest of her glossy hair, with the shortest pieces still grazing the tops of her cheekbones. But to truly appreciate the transformation, just compare it to two of Ortega's other recent sightings, an Adidas campaign ad posted in August and her 2023 Met Gala look respectively:
Cindy Ord/MG23/Getty Images
If you're on a similar journey to be rid of your bangs, regardless of their length or shape, the most important tool is patience. Hair grows, on average, about a half an inch per month, which might sound slow, but the difference is much more apparent on shorter pieces like bangs. Consider getting strategic trims to help them blend in with your face-framing swaths of hair. However, that isn't always necessary, especially if you already have curtain bangs or the style's more tapered cousin, bottleneck bangs. In those cases, drying or styling with a blowdryer and round brush, or a two-in one blow-dry brush, can essentially force both sections of hair together.
Who would've thought that one of winter's coolest haircuts is simply no cut at all?