Jenna Ortega Says Her New Adidas Campaign Is A "Full Circle Moment"
The partnership shows a different side of her personal style.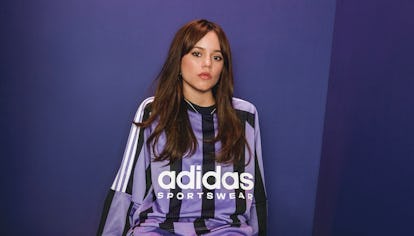 We may receive a portion of sales if you purchase a product through a link in this article.
Jenna Ortega may only be 20 years old but she already has more than a decade of acting experience under her belt, thanks to beloved parts like young Jane in Jane the Virgin and Tara Carpenter in Scream. But it wasn't until her starring role in Netflix's Wednesday late last year that she became noticed as a bonafide fashion star. Once she began gracing red carpets in Versace gowns and Tiffany jewels with custom-made Valentino platforms, it was only a matter of time before the SoCal-native would front a big brand. That said, Ortega's first partnership is showing a different, sportier side of her personal style. She'll be one of five faces in the "All That You Are" campaign for Adidas's first new label in decades: Adidas Sportswear, which adds to the brand's Performance and Originals lines. (Other names include basketball player Trae Young, South Korean soccer player Son Heung-min, Australian soccer player Mary Fowler, and Brazilian gamer Carolina Voltan.)
"When I think of my childhood or brands that I grew up with, Adidas is at the forefront of that," Ortega says on a Zoom call with TZR. "I played a lot of soccer growing up and my entire family played a lot of sports, but we always wore Adidas." Even when she started working as an actor, "Adidas joggers were always a part of life," she says. With all that history considered, becoming a face of the label felt like a true "full-circle" moment for the actor.
Activewear, officially defined as clothes that are made for movement, naturally fit in with Ortega's life and the different parts of herself. "While I am female, sometimes I feel a bit more masculine," she says. "[Active]wear is perfect because it's the best of both worlds and you're able to kind of embrace both sides of your identity."
Growing up in Coachella Valley, CA, about two hours southeast of Los Angeles, also inspired Ortega's love of laid-back style. "It's almost cooler if you're not trying too hard," she says of her hometown style. "All of my friends, we would go to school together and then go to soccer practice and it's really hot here," she says, explaining her natural gravitation toward breathable athletic clothes.
In the new Adidas campaign, Ortega wears the label's debut drops: the AVRYN, a muted-colored sneaker made with recycled materials; and the Tiro Suit Up Advanced, a minimalist reimagining of the brand's iconic tracksuit. She makes them her own with a shirt and tie in one look and a sequined crop top in another. When asked how she would wear the line IRL, she says,"If I have to run any sort of errand or do something like that, it's super comfortable. And same thing with work. It's my go-to because I feel like you always look put together and effortless when you're doing rehearsals and things like that."
To be clear, Ortega is not always donning a tracksuit. As a Hollywood It-girl, the actor knows when to dial up an ensemble — and has fun doing it. And lately, she seems to really lay into the "soft goth" style inspired by her titular Wednesday character.
"I feel like I always wanted to wear more black and I always wanted to wear more eyeliner, I just didn't feel like I could for some reason," she admits. "I don't know if it was because of pressure that I put on myself learning to become a public figure or not really having a certain sense of self yet." The actor says playing Wednesday Addams helped give her the confidence to embrace that darker side of her style.
"My wardrobe more recently has definitely been a bit more gothic for sure," she adds. And she's not alone — the hit Netflix show has made an imprint on the fashion and beauty industry, with designers like Rodarte creating "gothic fairy" looks for the Fall/Finter 2023 runways, a clear nod to the moody character's aesthetic.
"I'm not surprised [about] the resurrection of Wednesday in general because she's such an iconic character," she says. "I can't think of a single person who wouldn't want to be more like her. So that's really unbelievable and cool."
If athleisure is more your vibe, shop Ortega's top picks from Adidas' new Sportswear label below.