You'll Be Dreaming Of SZA's Rainbow Chrome French Tips Tonight, Guaranteed
@sza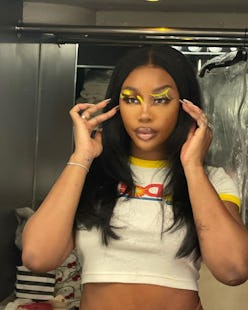 Only five days into June and it looks like SZA is winning the entire summer season as a whole. Fresh off the blockbuster success of her SOS album, the multitalented star headed over to Europe with her team to continue the next leg of her massive, worldwide tour. In between concert dates in Amsterdam and Zurich, SZA stopped over in Paris for a show and and a handful of stylish outings — all with one glamorous new manicure, too. SZA's colored French tips, part of a metallic, chrome-accented set featuring tons of intricate nail art, are the perfect complement to her sultry magenta handkerchief mini-dress for a day at the Louvre. And based on the crew with her, the high-quality camera seen in behind-the-scenes photos, and SZA's own free-flowing, endless creativity, it looks like could be already hard at work on her next project.
SZA unceremoniously dropped her carousel of behind-the-scenes Paris pictures on Sunday night, much to the delight of her near 17 million Instagram followers. In the (honestly, perfectly chosen) cover photo, the "Kill Bill" singer is draped in a gossamer-light magenta gown and oxblood Tabis, her curls long and loose while her silver-accented eyes make direct contact with the camera lens. But with one arm outstretched across the balcony, you can catch a glimpse at her metallic, candy-colored nails — each one is totally different, making the entire manicure all the more intriguing.
In another shot, buried deeper in the photo dump, the totally transparent nature of SZA's dress is revealed, along with a better look at the other nails. It seems like the overall theme is metallic tips, but even the tones in the nail bed colors vary. Her right index finger is a rich cerulean on a baby-pink base, while her thumbs are light yellow and green respectively.
SZA's eye for aesthetics and boundless artistry means she goes through manicures with breakneck speed. In her last carousel, the star showed off another nail-art adorned set — but a few slides later, she's pictured with those metallic tips.
To get SZA's maximalist manicure, know that the only rule is there aren't any. Go freewheeling with rainbow tips or stick to a few standout shades, but the kicker is the shiny, futuristic chrome detailing — leave it to SZA to make such a well-worn trend feel totally fresh and completely new.