Pearl Studs, Gucci Logos, & Chrome Everything — See The Best Celebrity Nails Of The Week
@eriishizu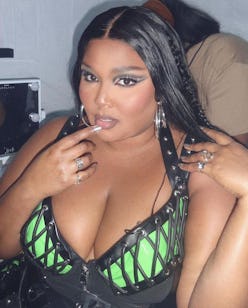 We live in fruitful times, friends. With the summer movie slate in full swing, new magazine issues hitting the stands, and patio-friendly warm weather encouraging some high-profile date nights in Hollywood, there's an absolute deluge of incredible celebrity manicures this week. In the past few days alone, Lizzo's silver chrome nails made their on-stage debut, Megan Fox went for a sultry-spooky shade of red, and Tessa Thompson covered her French manicure in tiny, luminous pearls — and they're not alone. It seems like everyone is feeling the fun, self-expressive nature of the season, channeling all sorts of creativity through their nails.
Below, the featured celebrities roughly fall into two groups: those putting their own spin on an existing trend, and those going for a very specific look tailored to their latest project. Jennifer Lopez's shimmery tips are a fresh take on vanilla chrome nails, for example, while Issa Rae's arachnid-dotted nails are the perfect tribute to her new Spider-Man film, acting as the perfect red carpet accessory.
No matter what summertime aesthetic you're channeling for these first few days in June, you're sure to get inspired by one of these A-list manicures. Ahead, the very best celebrity nails of the week.
Lizzo's Silver Chrome Nails
Silvery and shimmering, Lizzo's futuristic chrome manicure is a perfect match to her sultry on-stage makeup. Created by celebrity nail artist Eri Ishizu, it's the chrome trend returned to its roots.
Issa Rae's Spider-Man French Tips
Steve Granitz/FilmMagic/Getty Images
Ishizu also brought Rae's on-theme manicure to life for the Across The Spider-Verse 2 premiere. Glossy black French tips arc over the light brown-nude base shade, with tiny spiders crawling up Rae's index fingers.
Jennifer Lopez's Vanilla Chrome Nails
Vanilla chrome nails are in hot demand across the board, so of course Lopez jumped into the trend with both feet — but not without giving the look a fresh twist. The manicure, created by celebrity nail artist Tom Bachik, concentrates that milky, off-white color toward the tips for a pseudo-French tip feel.
A$AP Rocky's Gucci Logo Nail Art
Baby RZA got a double dose of super-stylish genes — just look at his dad's newest manicure. Celebrity nail artist Kim Truong replicated the legendary Gucci logo for A$AP Rocky with Manucurst products, leaving some nails shellacked in glossy pink and bright white for contrast.
Margot Robbie's American Manicure
Do not call it a French manicure — Bachik gave Robbie an American manicure, which is softer, lighter, and far more low-key. Using an off-white for less contrast between the nude-pink base, they're the ultimate your-nails-but-better manicure.
Tessa Thompson's Pearl-Studded Tips
Jason Mendez/Getty Images Entertainment/Getty Images
Ever see a manicure so perfect it actually brings a tear to your eye? If not, take a closer look at Thompson's. Elegant, angelic, and truly unforgettable, celebrity manicurist Mei Kawajiri carefully arranged tiny pearls around Thompson's otherwise-classic French tips.
Megan Fox's Poisonberry Nails
Fox's third annual goth-girl summer is officially underway, and she's kickstarting it with the coolest manicure. Celebrity nail artist Brittney Boyce shellacked Fox's long, stiletto-shaped nails in a deep, dramatic red — the devilish purple undertones give it a poisoned candy apple feel right at home with her dark fairytale aesthetic.
Hailey Steinfeld's Lip Gloss Nails
So many stylish stars have been dabbling in the "lip gloss nail" trend, and Steinfeld's version proves why it's so popular. Created by Bachik for the Across The Spider-Verse 2 premiere, the long, almond shape and nude color make Steinfeld's nails look so long and effortless elegant.
Kendall Jenner's Celery Green Nails
Caught in glimpses through Instagram, Jenner's bright green manicure is the perfect choice for her European vacation. Jenner often turns to assorted green shades for every season, but this bold veggie-toned version is quirky enough to add some extra flair.