Gabrielle Union Tried The 'Martini Makeup' Trend & It's Too Perfect For Fall Parties
@gabunion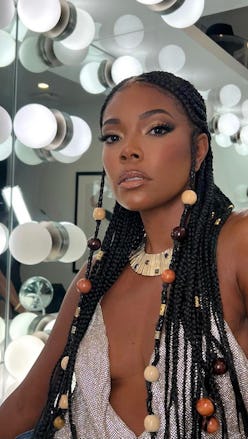 Rather than scrolling that endless FYP, why not just look at Gabrielle Union's Instagram the next time you need some fall beauty inspiration? Only a handful of weeks into the season and grids already come alive with cold weather self-care tips, holiday party-ready hairstyles, and the trendiest manicure colors of the moment. But because Union makes everything look easy-breezy, it's easy to gloss over one area where she really shines: colorful, creative makeup. Just look at Union's green eye makeup from her appearance at a Schiaparelli event — it's not only a brilliant match to her corset-top jumpsuit, but also happens to be one of the season's it-girl colors overall.
A rich, shimmery moss green illuminated by a gold undercurrent, Union's eyeshadow is actually relatively straightforward. Makeup artist Joanna Simkin created the look, and seems to have deepened the green just around Union's eyelid creases to add more depth and dimension overall. Some large, voluminous lashes helped form a cat-eye effect, while smudgy black eyeliner defined her lower lashes. In a photo taken just outside her home ahead of the event, you can truly appreciate the makeup's light-catching sparkle and its earthy tones. Of course, Union's low, sleek bun helps put even more attention on the eyeshadow, too.
If you need further evidence that Union's page is the only place to be, consider the current "martini makeup" craze currently trending on TikTok. As you might expect, the look calls for classic shades of olive, often punched-up with shimmer, sultry eyeliner, and satin-finish lips in complementary colors — you know, exactly like the look Union wore to the Schiaparelli party.
If the trend sounds familiar, it's because drink-inspired makeup looks have been everywhere all year. The same way the "tomato girl" had June through August in a chokehold, autumn's seen everything from "red wine girl" to "whiskey girl makeup" dominate social media platforms before the first leaves even fell.
Not only does Union's olive-toned look fit right in, but it's nice to see the trend worn in real life — not that a glittering fashion party attended exclusively by A-listers is the same thing as wearing the makeup to your next wedding, but still. A celebrity co-sign and a great example of how to do it IRL? It's hard not to be influenced.