Gabrielle Union's Sweet Mother-Daughter Self-Care Moment Involves The Best Sheet Masks
@gabunion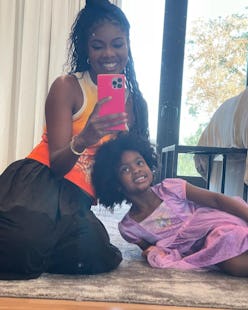 We may receive a portion of sales if you purchase a product through a link in this article.
As far as celebrity role models go, you can't do much better than Gabrielle Union — now imagine her as a mother. Union's always happy to pass along life lessons from her family to her followers, which includes a recent take on self-empowerment that's more than a little universally applicable. In a video posted to her Instagram account, Union's wearing a sheet mask and having a chat with her youngest daughter — who's wearing one of her own. "So self-care is always very important and it's never too early to start," Union narrates to the camera, showing off the hers-and-hers skin care, adding with a laugh that little Kaavia was wearing a Joanna Vargas anti-aging formulation. "Kaav, do you feel younger already?" she joked.
For her part, Union opted for the 111SKIN Celestial Black Diamond face mask, a two-piece best-seller infused with peptides and diamond particles to tease out an instant glow and a lifted effect. Smoothing the glossy black sheet on, Union mentions Kaavia was feeling down after school, which prompted their family self-care session. "It's important to make yourself feel kind of right," she explains to her daughter, ending their sweet moment with a big hug and a series of cute selfies.
Though still a year shy of Kingergarten, Kaavia's already made a name for herself in the beauty space with her mother's help, trialing her Flawless by Gabrielle Union hair care line, collaborating on brand partnerships, and showing off tons of adorable protective hairstyles. Union's been very open about her relationship to motherhood and loves to share Kaavia's adorable antics on both of their Instagrams — Kaav boasts two million followers already, too.
As far as sheet masks go, the pair couldn't have selected two better options. Union's 111SKIN pick is a celebrity favorite ahead of red carpet events, beloved for its instant glow and firming effects. While the "anti-aging" ingredients in Kaavia's Joanna Varags mask were part of a joke, the formula's antioxidants and soothing kelp help hydrate and protect skin of all ages.
At the rate Kaavia is going, expect her own line of baby sheet masks before you know it — she's already a mini-mogul. Shop her and Union's self-care favorites just below.