Eva Longoria's Frosty Rose-Gold Nails Are The Sweetest End-Of-Summer Manicure
@evalongoria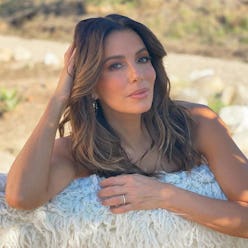 Imagine it — you're on an end-of-summer vacation with Eva Longoria. She'd definitely rent some incredible little cliffside villa, shake up her trademark cocktails all day long, and share all her best warm-weather beauty and fashion advice while you sip them by the pool. When it comes to summer style, Longoria's virtually unmatched. But it looks like she might have saved her best moments of the season for the very end — a grand finale, if you will. Longoria's rose gold nails, featuring a wash of frosty chrome powder for extra shine, look like what sunset on the patio feels like: shimmery, soft, and straight-up beautiful.
Longoria showed off her new manicure during a DIY recipe video demonstrating how she makes her signature peach margarita, infused with her own Casa Del Sol Tequila. As she slices the peach, her pink nails look nearly identical to the fruit, a light, warm-toned pink that plays beautifully off the stacks of metallic jewelry snaking up her fingers and wrists. By the time she's finished brewing up her marg, the nails no longer match, but stand in excellent contrast to the (extremely delicious-looking) cocktail — in fact, they look more like a glass of frozé translated into a manicure.
With Longoria's extended almond-shaped manicure, the glistening chrome powder applied over her polish has extra space to shine, adding even more oomph to an otherwise nearly-nude nail color. The star has a long documented love affair with the chrome manicure tend overall — she's worn silver, bronze, and blue-tipped versions of the style all this summer alone. In fact, her influence is probably part of why the craze still has such a strong grip in salons across the country. She's probably spiked searches of every margarita flavor, too, based on her ever-growing collection of how-to recipe videos.
As the current season starts its slow fade into fall, Longoria's summery manicures will be more than a little missed — but something says the cold-weather polish colors and styles she has up her sleeve might make the transition a little bit easier.