Eva Longoria's Platinum Manicure Is The Fastest Way To Look Like A Million Bucks
@evalongoria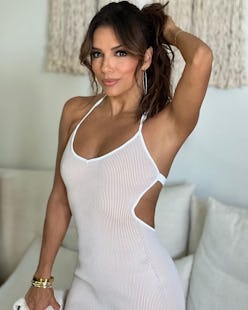 It's a point you'll hear repeated often, but it's true: there are no rules in beauty. But even if there were, something says Eva Longoria would break them anyway; she's the sort who stays true to herself and her distinct taste regardless of what anyone else is doing. That goes double for seasonal mores, too. Regardless of their holiday party-perfect reputation, Longoria's demonstrating just how enchanting platinum-colored manicures can look on a sun-soaked vacation. Longoria's silver nail polish might not be the first thing you think of when deciding on a beach trip shade, but maybe it should be — if anyone has the power to make the unexpected look trend before Labor Day, it's her.
Longoria shared a sultry shot of herself stretched out on a seaside chaise in the sand, dressed in a black cutout bikini, delicate hoop earrings, and a trucker hat emblazoned with her tequila brand, Casa Del Sol. Even with her hand tucked up behind her head, the metallic glint of her manicure immediately catches the eye. In a subsequent photo in her carousel, Longoria offers up an even better look at the silvery polish and the shimmer it gives off in the sunlight as she snuggles up with her sleeping son.
Though typically associated with winter and cooler weather overall, silver manicures seem to be one of Longoria's most-worn colors in general — and she really loves metallics. A quick glance through her Instagram reveals more than a few different chrome-ified nail colors, including a glazed rose gold, pearly white, and several different silver instances.
As celebrities start to trade in their classic summer manicures (and the more experimental ones, for that matter) in for fall alternatives, follow Longoria's lead and don't discount the metallics. The chrome nail trend has shown that you can slap some pearlescent dipping powder over any color you can think of to give it a shimmery, reflective finish. But if in doubt, just look down at the jewelry you're wearing and copy that.
In a way, this just cements Longoria's status as an aesthetic visionary. She's not thinking about fall or winter — she's just doing her own thing and influencing everyone else along the way.