Julia Roberts Got Her Riskiest Haircut In Years, But It Totally Paid Off
Taylor Hill/FilmMagic/Getty Images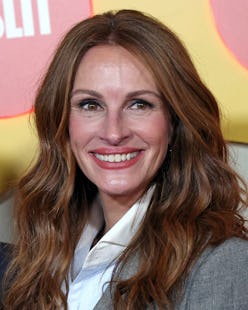 Unlike many of her A-list peers, stopping to analyze Julia Roberts' style evolution over the past few decades wouldn't reveal a beauty chameleon, but rather a woman with a masterful sense of her own personal aesthetic. Sure, she's dabbled in every shade of blond, brunette, and red hair colors and is unafraid to test out different lengths and textures, but on the whole, Roberts knows what she likes and generally sticks to it — which makes those moments of experimentation truly unforgettable. Julia Roberts' new blunt bangs, debuted at a Chopard event in Geneva, prove it. Her first major hair transformation since a dalliance with sun-streaked blond back in 2020, the just-cut fringe is long, blunt, and blended well into the rest of her long, tousled waves.
While clearer images and more information are still on the way, it's evident even from initial shots that the bangs completely alter Roberts' entire look. The warm, cinnamon brown color and long layers — not to mention the polished-yet-lived-in texture and her Nells Nelson suit — add some retro, '70s-style flair that puts Roberts very much on trend. Though it's yet to be confirmed over on his Instagram, it looks like celebrity hairstylist Serge Normant was responsible for the red carpet look, along with Roberts' hair in Chopard's new ad campaign.
Interestingly, while Roberts' hair is very much trending overall, she does skirt the ongoing curtain bangs craze in favor of a more classic style. Heavier, straighter, and blunter than curtain bangs, Roberts' look is more universal, but steered into the '70s with all that volume around the top layers. It's a pretty major departure from her usual elegant curls, like the sort she sported at January's Critics Choice Awards — her last red carpet sighting pre-bangs.
And because the lush new bangs are such a serious departure from her norm, it's worth considering that her fringe is, in fact, faux. Plenty of celebrities — think Florence Pugh, Gabrielle Union, and Blackpink's Jisoo — have been experimenting with clip-in and simulated bangs in recent months, but only time will tell if Roberts' bangs will live to see tomorrow. Speaking for everyone, here's hoping they're part of a whole new signature look.