Marc Jacobs's Iconic Stam Bag Returns 10 Years Later — And It Looks Just As Good
Harley Weir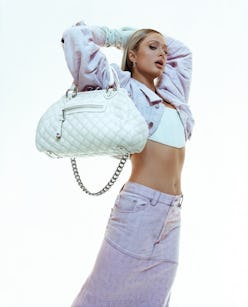 We may receive a portion of sales if you purchase a product through a link in this article.
Fashion houses often revive past, beloved handbag styles much to the joy of their fans. Take the return of Dior's Saddle bag in 2018 or Prada's Re-Edition Nylon bags in 2019 — every time a blast from the past design comes back, they most certainly go viral and sell out. Now, it's Marc Jacobs turn to take a stab at this nostalgia game: it just brought back one of its most iconic purses to date, the Stam bag. The Marc Jacobs design initially debuted on the Fall 2005 runways and was named after Jessica Stam, who was famously part of the elite group of "doll faced" models in the 2000s.
Upon the accessory's release, every celebrity carried the Stam: Beyoncé, Blake Lively, Nicky Hilton, Lindsay Lohan, Ashley Tisdale, Rihanna — the list goes on. Stars and tastemakers loved the roomy, quilted leather piece and rocked it with everything from sweaters to tunic dresses over leggings — a true early-aughts outfit indeed. Eventually though, the bag became a victim of fashion's "in with the new and out with the old" mentality. It was discontinued in 2013, leaving savvy shoppers to scour through consignment platforms like The RealReal and Vestiaire Collective as the only means to shop it. Fast forward a decade later, the Stam rose from the ashes.
Marc Jacobs Fall 2005 CollectionFernanda Calfat/Getty Images
Tisdale carrying the Stam in 2006Mark Mainz/Getty Images
Lohan carrying the Stam in 2006James Devaney/WireImage
Given that it's been 10 years since the Stam was at the forefront of most people's minds, Marc Jacobs knew he had to announce its return in a major way. And we can't think of anything more headline-making than having the Jessica Stam front the campaign alongside other early aughts style icons like Paris Hilton, Ashlee Simpson, Ashanti, and Selma Blair. The stars all display their new Stam bags front and center in photos shot by Harley Weir and styled by Alastair McKimm.
The re-edition purse contains nearly identical components to its 2000s counterpart. The style has that unmistakable quilted leather look and features a distinctive metal chain with a coin-purse closure. The shoulder strap is removable, allowing you to carry it multiple ways. You can find the refreshed accessory in two sizes classic ($1,495) and small ($995), and in three hues: black, white, or pink. This launch is the latest addition to Jacobs' "(M)Archives collection" of timeless accessories, which means more bygone goodies could come out of the brand's vault in the future.
If you missed your chance on securing a Stam the first time around, don't hesitate now and add your favorite re-edition style into your virtual checkout cart.