There Are So Many Types Of Twists Out There & Your Favorite Stars Have Tried Them All
Stefanie Keenan/Getty Images Entertainment/Getty Images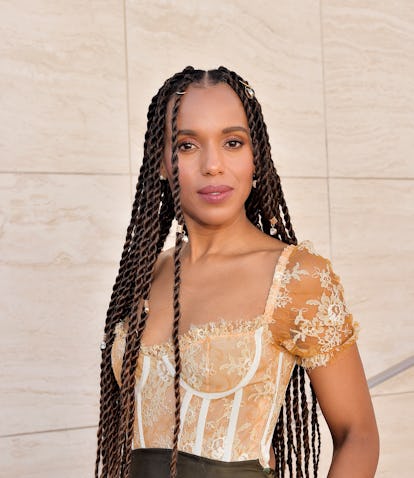 Even among the ever-growing list of protective hairstyle possibilities, twists — of all sorts — are something special. With so many different textures, shapes, lengths, colors, and accessories easily combinable to create tons of style options, it's no wonder they're a go-to choice for the A-list. Celebrity-favorite twist hairstyles are varied in their type and execution, but all add an undeniable cool-factor to any look, on or off the red carpet.
All types of twists are trending, beloved for their protective nature and versatile aesthetics. Gabrielle Union's tight, wave-shaped spring twists, for example, add playful movement and dimension to the sleek, oversized blazer she wore on an autumn date night. Meanwhile, Ciara's much larger and more uniformly-shaped passion twists show off her honey-blonde highlights in a way that just screams summer. No matter if you're headed to the salon for some professional installation or teaming up with a friend for a day of DIY beauty, proper technique and maintenance keeps most twists fresh for around six weeks — plenty of time to pair them with your closet's best casual and elevated outfits alike.
Ahead, explore some of the best trending twist hairstyles of the moment, all already co-signed and modeled by your favorite celebrities.
Senegalese Twists
It doesn't get much more celebrity-friendly than Senegalese twists, also often referred to as rope twists. Smooth, protective, and endlessly versatile, the style utilizes a two-strand twist method that looks great on all hair lengths, particularly those augmented by the incorporation of straight braiding hair.
As Seen On Issa Rae
Styled by Felicia Leatherwood⁠ for a Mic cover shoot, Rae proved just how creative you can get with Senegalese twists. With three long, jumbo-sized twists, the possibilities for updos are endless.
As Seen On Kerry Washington
Washington's love for hair accessories is long-documented, but her ring- and cuff-accented Senegalese twists might be her all-time best. Styled for a celebration of women in the entertainment industry, the twists flow past Washington's hips, parted in the middle for an especially ethereal feel.
Passion Twists
Developed by Kailyn Rogers, a Miami-based hairstylist also known as The Boho Babe, passion twists were originally created to incorporate the best attributes of Senegalese twists with the femme, ethereal nature of goddess locs. By combining the two, passion twists became an entirely new hybrid style especially stunning (and popular) for the summer months.
As Seen On Ciara
Like the first bloom of spring, Ciara's blonde-highlighted passion twists signaled the start of warm weather earlier this year. To make the style her own, though, she left in plenty of free-flowing curls in the mix for added texture and dimension.
As Seen On Naomi Osaka
The coily nature of passion twists makes them especially excellent for showing off color, aptly demonstrated by Osaka and her long, amber-red twists. The wrap-around texture emphasizes the warm, fall-friendly shade and reflects the light for maximum gloss and shine.
Marley Twists
Named for Bob Marley's legendary look, these twists incorporate textured Marley braiding hair for a more natural take on a classic two-strander. Thanks to their looser wrap and laid-back feel, Marley twists have long been a summertime staple, easily lasting up to eight full weeks with proper care.
As Seen On Tessa Thompson
Thompson's half-up Marley twists, styled by the legendary Lacy Redway, are the ideal cool-girl foil to her buttoned-up blouse. Crucially, Thompson and Redway ensured the partial updo wasn't too symmetrical — so much of the Marley twist charm is in its effortless glamour.
As Seen On Solange Knowles
Knowles and her famous big sister have tried what feels like every protective style out there between the two of them, but it doesn't get better than these long, thick Marley twists seen on-stage at a concert.
Spring Twists
If you want a cross between delicate, earth-goddess vibes and high-glamour drama with retro edge, springs twists could be just the ticket. As the name suggests, they're defined by their coiled, springy shape and texture thanks to a tighter wrapping style. They're especially great for those who love half-up hairstyles, buns, and ponytails thanks to their lightweight, extension-enhanced structure.
As Seen On Gabrielle Union
Created by hairstylist Dash Carter, fans went into a frenzy the moment Union's shoulder-length spring twists hit social media. Luxe and voluminous on their own, trust Union to make the look all the cooler by pulling just the front pieces back — a '00s classic.
Mini Twists
Long twists are always striking, yes, but you don't necessarily need a half-dozen packs of hair and hours in the chair to get in on the fun. Mini twists are equally trendy and stylish but usually rely on just your natural hair, gently stretched, to nail.
As Seen On Lupita Nyong'o
The consummate cool-girl in mirrored sunnies and a fur-trimmed leather jacket, Nyong'o's night-out style is elevated by her short, eye-skimming mini twists. The twists' deep side-part and high-shine finish are the icing on the cake.