"Old Hollywood" Hair Is New Again — & You Can Thank Lacy Redway For That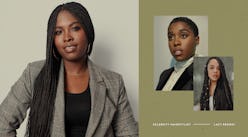 There's a short list of looks that come to mind when you think of "red carpet hair": twisted chignons, side-swept waves, and cascading pin curls. The Old Hollywood styles that dominate awards season's best-dressed lists reflect the startlingly white beauty standards of that era — with looks ideal for longer lengths and straight textures. But, over the last five years, there's been a boom of natural curls and coils seen on the carpet — and celebrity hairstylist Lacy Redway has a growing hand in that.
"I'm one of the very few artists performing at this level that can literally do anybody's hair that you put in front of me," Redway tells The Zoe Report. At the 2019 Camp-themed Met Gala, Redway client Tracee Ellis Ross wore elegant cornrows surrounded by a gilded frame, which doubled as a tribute to Lorraine O'Grady and a suggestion that black hair is a literal work of art. On the cover of AnOther magazine last year, Lupita Nyong'o shined in a rounded halo of her own coils, styled by Redway. The breathtaking looks affirmed that natural hairstyles — beyond twist-outs and wash-and-gos — can be just as high fashion as those old-school notions of Hollywood glamour.
"When I started listening to my own voice, that's when I became the most like myself and successful," Redway, 33, says. Her long list of clients now includes Amandla Stenberg, Ashley Graham, Priyanka Chopra, Zazie Beetz, and Tessa Thompson, and her editorial work can be seen in Elle, Essence, Vanity Fair, Vogue, and Teen Vogue, where she recently gave rapper Chika a Biggie Smalls-inspired crown of plaits. "I can do braids, I can do locs. There's versatility in my work" she says. "But sometimes it does feel like it's still harder — not just as a person of color, but as a woman of color — to get the same opportunities that I see my white counterparts get."
Dimitrios Kambouris/Getty Images Entertainment/Getty Images
Tara Ziemba/WireImage/Getty Images
For decades, it's been an open secret that some of Hollywood's most in-demand stylists struggle with natural hair. In May, Oscar-winning actress Viola Davis, who's been open about her past experiences with white stylists, shared she'd no longer work with those who won't "honor" her hair. "I don't think that people understand our hair," she told Ebony. "They don't understand that we're different, and yet, the same."
Tiffany Haddish was once reduced to tears, leaving the set of Keanu in search of someone who could actually cornrow. "I cried about it because it was a lot of extra time, and I could have been resting or learning my lines or just making sure I was on point," she told the Associated Press. During fashion month, models often come to runways with their own kits rather than leaving their curls to someone with an inexperienced hand — and many models choose to wear their hair natural to avoid damaging styling.
"It's frustrating when you have to sit in the chair and look for someone you think you know can work with you — other than just coming in and being able to sit anywhere," model Sabah Koj told TZR in March.
Having worked backstage, Redway knows firsthand what it's like to be the only person of color in the room, often assigned to women of color rather than having an equal opportunity with all talent. As an up-and-comer assisting big names like Eugene Souleiman, Guido Palau, and Odile Gilbert, she aimed to learn styling skills like speed, precision, and teamwork that'd help with any client.
She was also inspired watching makeup artist Pat McGrath transcend the boundaries thrust upon black artists in the beauty space, too. "We're both women of color that are darker skin-toned, and she's also of Jamaican descent," Redway says. "For me to see her performing at the level she was performing, when I was just a little baby assistant coming up, I was like 'Wow, I can do this.'"
Before all of the red carpets and runways, Redway's hairstyling journey began growing up in her native Jamaica. She has early memories of wash day, sitting on a futon in front of her older sister as she meticulously styled her wet hair into bantu knots. "For me, having my hair braided and done was a ritual in my house where it was a standard, every Sunday," she says.
Redway's family emigrated to the United States when she was eight, and by middle school, she was in business. She braided classmates' hair, charging $10 to $20 a head, so she didn't have to ask her parents for an allowance. She worked at a salon during high school and, after graduation, left a communications degree program to become an Aveda-trained stylist. Redway began advertising her work on Myspace, Model Mayhem, and Black Hair Media, where she picked up a bevy of clients from all over the globe. She serviced them in a basement-turned-salon in a building her father managed.
These days, her fan base keeps up with her on Instagram, where she has nearly 79,000 followers. "I love being able to touch so many different people around the world," says Redway, who receives direct messages from France, England, Mexico, Germany, and the continent of Africa.
"I've had people DM me saying 'You've shown my daughters to wear their hair natural,' and to me, that is celebratory," she says. "That's what makes me feel accomplished. Not just the magazine covers and all that. It's being able to really teach people around the world that their hair is beautiful just the way it grows out of their head."
Within the small-but-mighty collective of black stylists working with black stars, everyone advocates for one another, and there's a strong sense of collaborative creation. "I'm trying to make sure that before I leave the industry that I've created a safe space for other women of color to be able to perform at the same level, if not higher, than me and be able to have the respect and just have an easier time."
Take Redway's relationship with Thompson, for example. "With Tessa, she's always given me that space and we collaborate so well as a team… she lets me go off," Redway says.
Another client, Zazie Beetz, told The Hollywood Reporter that, with Redway, "I felt that I had found someone who understood my language, and didn't try to change me or what I liked," she said. "She complements my ideas so seamlessly with her own, and I can just relax when we're working together because I know that in creative tongue, we speak the same way."
Redway, who's worked behind-the-scenes on short films and commercials, sees more television and film projects in her future. She's inspired by '90s and early 2000s right now, and hopes to bring the versatility of Moesha-era box braids to the sets she'll work on.
Looser hair textures still enjoy more visibility in Hollywood, so Redway is elated to see actresses like Nyong'o — a regular client of fellow celeb stylist Vernon François — transform people's perception of 4C hair. "Lupita came on the scene at a time when we needed to see the representation of women that look like us, that had our hair texture, on that scale on the red carpet."
A fan of the hairstyling on Black-ish and Grown-ish, Redway sees a direct correlation between on-screen representation, trend influence, job creation, and self-esteem. "We're really just trying to make sure that the little girl at home realizes that, 'Wow, I can wear my cornrows to prom and to this wedding because she did it on TV," she says. "I see Zazie Beetz, I see Tessa Thompson, and they're doing it."