Celebrities Saved All Their Coolest Hairstyles For Paris Fashion Week
They're just getting started.
Stephane Cardinale - Corbis/Corbis Entertainment/Getty Images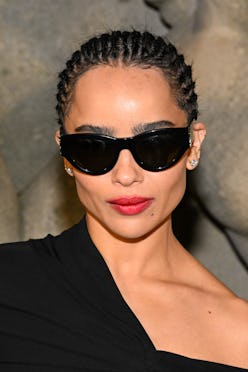 There's not an A-lister out there who can resist the siren song of Paris Fashion Week — any season, too, for the record. Even the most camera-shy celebrities out there make the journey to Paris at least once a year to take in the sights, the new styles, and their fellow stars. And while the celebrity beauty moments at Paris Fashion Week Fall/Winter 2023 are just barely underway, they're already shaping up to be among the best in recent memory. Maybe it's the caliber of shows, all back to back, or maybe it's just the electric city air. Whatever the case, something about Paris inspires even the most low-key celebrities out there to side-step out of their comfort zone and really make a splash with their looks.
For the more aesthetically experimental — think your Dua Lipas and Salma Hayeks of the world — the week is a nonstop opportunity to try out bold, statement-making makeup and creative hairstyles in a space where they're celebrated. Meanwhile, the "perma-chic" stars, like Zoë Kravitz and Jisoo, are in their natural habitat with effortlessly glam, French-girl-approved looks. The thing about Paris Fashion Week, though, is at any given minute, anything could happen — including a mold-breaking appearance by even the most conservative celebrities. Ahead, all the A-list beauty looks you need to see from the shows to the streets to the all-important afterparties.
Dua Lipa
Judging from her sultry, intense look at the Saint Laurent show, it looks like Dua Lipa is officially co-signing the ever-growing matte makeup trend. Powered by a poreless-looking complexion, her peachy blush and smudged-out, steely eyeliner look especially immaculate. Of course, her deep (deep) slicked-down side-part helps, too.
Zoë Kravitz
It simply doesn't get any cooler than Zoë Kravitz at Saint Laurent in red lipstick and a straight-back cornrow bun styled by Nikki Nelms. The lipstick's finish is an interesting one — the violet-toned red applied by makeup artist Nina Park is soft, with an intentionally-faded effect that looks glamorously wine-stained.
Jisoo
When BLACKPINK's Jisoo was spotted at the Dior Couture show in January 2023, she was sporting a pair of chicly short micro-bangs. Just a few weeks later, she's back again (sans faux-fringe) with long, cascading waves and a brown smoky eye that adds plenty of intensity.
Salma Hayek
The green makeup trend is ramping up to be a major one — and Salma Hayek is making an excellent case for it at the Saint Laurent show. The shimmery emerald shade covers her upper eyelids, forms a subtle cat-eye wing, then loops around the define her lower lash line.
Charlize Theron
Charlize Theron finally bid her brunette mullet au revoir, resurrecting her signature chin-length bob in a buttery platinum shade for the Dior Ready To Wear Show. The hair color adds even more warmth to her luminous, bronzed complexion makeup.
Adwoa Aboah
Supermodel Adwoa Aboah is already credited with inspiring an entire generation of aspiring it-girls, and her look at the Saint Laurent show shows exactly how it happened. Her full, fluffy curls are a captivating cool brunette, barely tinged with red, which just so happens to perfectly complement her rich oxblood lip shade.
Gal Gadot
Over at Dior, Gal Gadot kept things classic with a few of her beauty signatures: shiny waves with natural texture, some gently defining liner, and the ultimate north-of-nude pink lipstick.