BLACKPINK's Jisoo Just Ended The Micro-Bangs Debate With This Couture Week Look
@sooyaaa__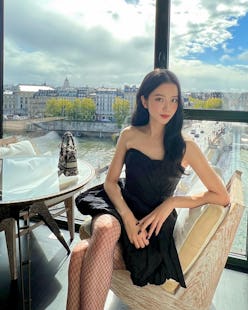 There are entire federal governments with less power than the BLACKPINK girls. With nearly 300 million Instagram followers between the four band members, all it takes is an off-the-cuff story post or an event appearance to kickstart an entirely new trend. Even among her preternaturally stylish bandmates, though, Jisoo is a standout. She's got plenty of major brand deals under her designer belt, but her work as a face of Dior always leads to incredible looks. At the Dior haute couture show in Paris this week, BLACKPINK's Jisoo debuted micro-bangs that might just put an end to the great short fringe conversation once and for all.
Paired with an upswept, braided ballerina bun, the close-cropped, eyebrow-clearing bangs add just the right amount of fashionable edge to her otherwise-polished aesthetic. It feels like nearly everyone is in a constant state of debate over whether or not to cut bangs, but Jisoo's look could add an entirely new element to the decision — length suddenly matters very much. Jisoo unveiled the exciting new haircut as she arrived at the show, dressed up in a luminous white Dior gown with a a crisp white collar and sleeve cuffs. The floaty, translucent sleeves just added another layer of ethereality to her look, all of which were heightened by the micro-bangs.
To complement the glossy bun and itty-bitty bangs, Peter Philips, the iconic creative director of Dior Beauty, applied radiant yet minimal blush, matching lipstick, and some delicately-winged liner. Along with her work promoting Dior's fashion component, Jisoo's also a muse for Dior Addict's beauty range.
Though the short bangs are a key piece of this look, it's still unclear exactly which stylist is responsible for the cut — of it's even a true cut at all. This Couture Week alone has seen plenty of A-listers and attendees simulate the look of bangs with clip-in pieces, extensions, and even the ends of their own ponytails, like Kylie Jenner did at the Schiaparelli show days earlier.
While it wouldn't be surprising to learn that Jisoo's wearing fake bangs (fangs?), the look is so becoming on the popstar, here's hoping they're here to stay.