Lizzo Just Introduced The World To Spring's Coolest Makeup Color
@iwantalexx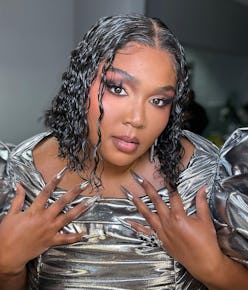 We may receive a portion of sales if you purchase a product through a link in this article.
At this point, it's time to just stop and give out credit where it's due. Even amid Lizzo's jam-packed schedule of appearances, events, promotions, and performances, she's never worn the same makeup look twice. It's a testament to the creativity of her makeup artist, Alexx Mayo, as well as their friendship-partnership — when you're on the same page and unafraid to get experimental, great things happen. It's certainly the case for Lizzo's recent live show looks, which have primarily focused on one standout color acting as a statement piece. Lizzo's green eyeliner from the Hamburg stop on her European tour, though, might be her coolest on-stage glam yet.
The green makeup comes on the heels of similarly bright looks featuring spring- and summer-friendly colors like pool-blue, lavender, and all-over orange, the latter of which she wore to the 2023 Grammys. But part of what sets this green liner apart is the green shade used. That yellow-toned green is actually spring green, and is set to be everywhere in the coming months. Mayo incorporated the color into Lizzo's look both on the lids in the form of a deeper, glittery-finish eyeshadow, then again as "disconnected" graphic eyeliner arcing up above her lid creases.
This graphic eyeliner style has been wildly popular through the 2020s, but Mayo's intentional gaps add lift, shape, and a cool new element to trend. He also layered the green eyeliner just over Lizzo's well-placed glitter eyeshadow and classic black winged liner, fanning the ends out to simulate an extra cat-eye.
On his Instagram page, Mayo revealed he used a selection of bright green products by About-Face Beauty and Half Magic Beauty, two Gen Z-beloved brands that specialize in expressive, bold makeup that lasts all day (or night).
Both brands were launched by founders who helped create the popular colorful makeup aesthetic that's helping define the current era. About-Face is the brainchild of musician Halsey, while Half Magic came straight from Donni Davy, head makeup artist on Euphoria. Fittingly, Lizzo's graphic liner feels more than a little Euphoria-approved, acting like a primer for the fun festival looks soon to be all over your assorted social media feeds.
Below, shop what you need to recreate Lizzo's springtime eyeliner at home.