Let Your Silver Shine With These Celebrity-Approved Styles For Long Gray Hair
Marc Piasecki/FilmMagic/Getty Images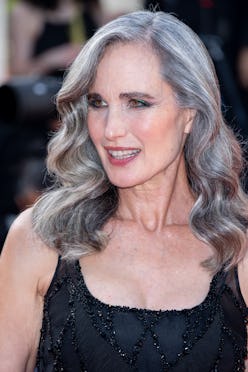 It's been a fact since the dawn of time: naturally gray hair is more than just a normal part of life — it's downright stunning. Negative attitudes toward outward signs of aging are thankfully feeling more and more like holdout sentiments from a bygone era, and it's in no small part thanks to the stars flaunting their gorgeous grays on the red carpet and in real life. The aesthetic possibilities are endless, particularly for celebrities with long, gray hairstyles. Regardless of if you have a few silver streaks or a full mane of gray, do not feel compelled to go for an above-the-shoulder chop unless you really want to. Long, flowing gray hair is a beautiful complement to any look, and these A-listers prove it.
As is the case with every other hair color out there, grays look incredible when gathered up into sleek updos, twisted into protective styles, straightened into glossy sheets, or coiled in a natural curl pattern. Gray hair does require a little extra TLC, though. Hair becomes coarser as it loses pigment, so take care to load up on hydrating products, masks, and heat protectants in between styling. To keep white, silver, and gray hair from veering yellow (unless that's what you're after — it can look so chic), maintain the cool undertones with special shampoos targeted toward toning.
To get some inspiration for your next look, explore how these celebrities wear their own long gray hair. No matter what degree of gray you have right now, there's a red carpet-approved hairstyle for everyone.
Helen Mirren In A Headband
Let Mirren's experimental attitude toward her long, silvery-white hair inspire you to try something new. The Academy Award winner's done everything from elaborate updos to blue streaks and pops of pink, but her hair accessory collection is doubly enviable. Here, she pulls it all back with a papaya-colored headband, a summery pop of color that matches her gown.
Andie MacDowell's Retro Hollywood Curls
For a few years now, MacDowell's vibrant silver has become a red carpet mainstay. She often shows off the gray in her tight, natural curls, but her latest Cannes appearance featured classic Old Hollywood waves, side-parted for even more retro appeal.
Mara Brock Akil's Half-Back Curls
A half-back hairstyle is an excellent way to keep the hair off your face while still putting silver and gray on display. Akil expertly demonstrates the power of a partial updo, with her the top half sleek and slicked before blossoming into gray-streaked curls through her ends.
Elizabeth McGovern's Sleek Bun
The slicked-back bun trend rages on for 2023, in no small part thanks to stars like McGovern. At the premiere of Downton Abbey's second hotly-anticipated film, she pulled her long, gray hair back into a classic twist.
Kelly Hu's Voluminous Blowout
A bouncy, voluminous blowout is an excellent way to highlight the grays that often arrive around the face first. For Hu's red carpet walk, she went for a part-less style (it's rising in popularity — keep an eye out) that helped highlight her long layers, too.
Diane Keaton With Flipped Ends
Silky, straight, and nearly all-white, Keaton's medium-length hair is a red carpet regular. Though it wouldn't be a true Keaton look without one of her signature hats, the gently-flipped ends peeking out at the bottom are incredibly on-trend.
Stacy London With A Gray Money Piece
London's always embraced the natural gray streaks she developed at age 12 — and at this point, they're downright iconic and part of her signature look. She lets them flow and blend in with the rest of her raven-and-gray hair, acting as a silver money piece framing her face.
Lisa Bonet's Long Locs
Bonet's worn her trademark blend of braids and locs in all sorts of shades and styles over the years, but she's always favored a more natural approach. Her real-life look, recently spotted at an exhibition, features several primarily gray and blonde pieces around her face for a standout pop of color that'll only get better with time.
Glenn Close's Silver Side Bangs
Close has tried all sorts of lengths with her blonde-tinted white hair, but her voluminous layers and perfectly-arranged side bangs are next level. Rather than toning her hair to a cool gray shade, she lets her natural yellow blend in with the whites and grays as a happy medium with her original color.