These Short Gray Haircuts Are Chic & Timeless
Options for every texture.
@simone_i_jacob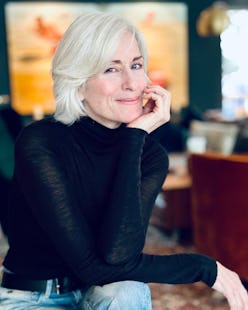 The arrival of your first gray hair signals that yes, you are in fact aging. However, instead of covering up silvery roots, many women are embracing the arrival of gray strands because they're just as gorgeous as their original color. First, it's important to understand why hair goes gray. "As we age, density and texture begin to differ when the hair follicles stop producing melanin," says Jon Reyman, celebrity stylist and co-founder of Spoke & Weal salons.
Color aside, the hair itself can change, too, often becoming wiry, coarse, and dry. "Over time, the scalp can become more brittle and dry since less oil is produced, leaving the hair to feel more coarse," says Reyman. For those with natural hair, this can shift curl patterns while straighter textures can begin to coil. Your new texture can dramatically effect what styles you'll be able to achieve, which is where gray-friendly haircuts come into play.
Ahead, TZR spoke with two of Hollywood's top celebrity stylists for their advice on the best haircuts for gray hair and tips on how to style each one so you can enter your new era feeling confident and fabulous.
Close Crop
When thinking about going short, zero or low maintenance should be a top priority. However, in some cases, depending on texture and chosen length, many people tend to neglect the scalp. "For cropped styles cut close to the head, scalp health is crucial," says Celebrity stylist Miles Jeffries. Using products at the skin's surface, such as Nécessaire's Scalp Serum, which is fortified with growth peptides, or a hydrating serum like OUAI's will help ensure that your hair continues to grow strong and healthy.
Asymmetrical Bob
Thinning is another big concern when it comes to aging hair. As Reyman tells TZR, this occurs as the stem cells in the follicles deplete over time due to the destruction of collagen. However, an asymmetrical bob can give the illusion of density by keeping the length at the chin and tapering the blunt ends to the nape of the neck.
Shaggy Pixie
Adding layers and tonal highlights to a pixie haircut is an easy way to give the appearance of fullness. "When kept short, there is less distance between the multiple lengths of hair that naturally occurs," says Jefferies. This also allows for more natural volume from the root where hair will be most healthy.
The Lob
If you want to retain some length, look for a lob with choppy layers for texture and volume. To maintain the health of your strands, Jefferies suggests incorporating a deep conditioning mask into your hair care routine to keep strands moisturized. "At the moment I'm loving this intensely moisturizing hair masque form Oribe's Hair Alchemy line that's meant to restore and strengthen weakened hair."
Natural Textures
Thinning is a primary reason why women decide to go shorter in later years, but you don't have chop it all off. "The key to prolonging the health of your hair as you age is finding a stylists that can teach you how to style your changing natural texture," says Reyman. He also recommends stocking your home with quality products and tools such as Dyson's Corrale cord free flat iron, which he uses to smooth textured hair after blow-drying.
The Salt & Pepper Bob
All too often, people turn to hair color to restore the "warmth" lost as their hair ages. But with thinning and brittle textures also occurring, a full color treatment may be too harsh for strands to handle. Instead, embrace the various shades of gray that arise and view them as natural highlights and low lights that only better the overall look of your style.
Defined Shoulder-length Curls
As the hair looses pigment, it becomes less pliable which can make upholding curls, even the natural kind, difficult. "Tools and products are key for styling," Reyman says, but you want to be careful not to use too much heat as the follicles will be fragile. " I like using the Air Wrap to decrease drying time for mid-length hair and always finish with a light smoothing oil to help prevent frizz or flyaways."
Super Fine Pixie
"Your hair will slow its growth, so opting for a style that requires little maintenance can be beneficial," says Reyman. Not only is a short pixie a sophisticated cut for lighter tones, but it can frame the face, and is manageable with little heat styling needed. Regular haircuts will keep it looking fresh while also preventing breakage ad damage in order to keep hair at the peak of health.
Short Skullet
With the addition of silver or white hair, the skullet feels much more grown up and sophisticated. To keep the color looking bright, colorist and Spoke & Weal co-founder, Christine Thomson recommends using color-depositing shampoo in order to maintain shine. Purple shampoo is meant to reduce brassy tones which can arrise in lighter tones, but it can also help the hair to appear and feel softer.
Medium-length Styles
A medium shoulder- length haircut can be the perfect style for those with thicker hair types. "If your hair is naturally wavy, you'll need a holding product such as Aveda's Volumizing tonic help set the style," says Reyman. After heat styling be sure to finish with a softening oil to add shine.