Helen Mirren Is Inverting An Age-Old Stereotype With Her Brilliant Blue Hair
Denise Truscello/Getty Images Entertainment/Getty Images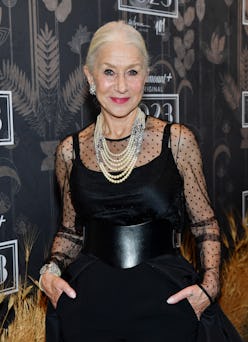 Apologies to the Oscars, Met Gala, and Erewhon — there's no better celeb-spotting situation than Cannes Film Festival's opening night. Maybe it's the electric European air, maybe it's the slate of industry-disrupting movies scheduled over the next several days. Either way, something about the two-week festival always seems to push celebrities to their aesthetic peaks. Case in point: Helen Mirren's blue hair at Cannes 2023. The fest's opening-night event consistently yields the best red carpet looks of the summer, but her incorporation of several different shades in her updo (not to mention her coordinating gown and nails) are an early high-water mark for the entire thing. Really, it's so classic Mirren.
As one of the boldest, most stylish, and straight-up coolest actors of her generation, Mirren always comes to play — from the minute her plane touches down in Côte d'Azur, it's a never-ending parade of killer red carpet moments. For the May 16 screening of Jeanne du Barry (which was followed by the festival's kickoff dinner), Mirren made a splash in a powder blue, V-necked gown and shimmery nails in the same tone. Her updo, of course, is the real story here, though. Not only is her naturally silver hair coated in cheerful blue dye, but it appears like her teased updo featured extensions and add-on pieces in different shades of indigo, cornflower, and cerulean.
It turns out that Mirren's blue hair was actually created with a summer-perfect spray-on color, the L'Oréal Paris Colorista in Pastel Blue. Meanwhile, her rosy makeup — the perfect complement to those pale blues — was created with L'Oréal Paris products, a Cannes sponsor this year, and likely applied by L'Oréal Paris Global Makeup Director Val Garland.
As electrifying as Mirren's bold updo is at Cannes this year, it's worth mentioning that she loves a colorful hair moment at high-profile events in general. She's worn pink hair to Cannes before as well as the BAFTAs, declared her love for green hair in the press. It was only a matter of time before Mirren entered her blue period, and it really does suit her. It could also be a brilliant, cheeky inversion of the "blue-haired elder" trope that first took root in the 1970s. By going for a blend of blues in an unapologetically eye-catching updo, the 77-year-old actor is proving (yet again) that there are no age limits on cool, creative beauty trends.
Naturally, the internet was quick to show love for Mirren's red carpet look, with many declaring her their summer beauty inspiration source. Others mentioned that the blue-on-blue reminded them of a similar matching hair-gown moment from Lady Gaga at the 2019 Oscars.
A dame and a lady — with stars like these leading by example, there's no wrong way to try blue hair this summer.