Cara Delevingne's Deep-Dish Side-Part Is The Secret To Her Sophisticated Haircut
A breaking beauty dispatch from Milan.
@hungvanngo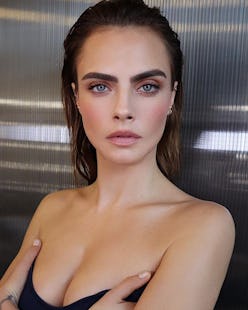 There's been more than a little discussion about bob haircuts in the public discourse lately. As it turns out, not all shoulder-length chops are created equal. Apparently, there are bobs, there are Roberts, and there are F.A.B.s — and universe help you if yours falls into the latter category, for both celebrities and civilians alike here. Cara Delevingne's deep side-parted version, though, absolutely transcends. A softer, longer take, she's managed to at once infuse it with trendy touches for a modern-enough feel, but it's still anchored by all the traditional elements that makes bobs and lobs such classic, timeless looks.
For reference, just turn your attention to her front-row appearance at the Fendi Spring/Summer 2024 Ready To Wear show over in Milan. Perched next to friend and fellow attendee Suki Waterhouse, Delevingne's golden-toned hair falls right to her shoulders, gently waved for movement and shape. The most interesting aspect, however, is the major side-part that practically starts at her ear. While many modern celebrity bobs are all about the 2020s middle-part, Delevingne's version offers a bit of retro charm and a way to get some extra volume and polish. Together with her chinchilla-colored sweater (worn sans bra), glossy nude nails, and delicately smoky eye makeup, her show look is downright sophisticated.
As incredible as the lob looks on her, some social media sleuthing shows that she might just be in the process of growing it back out. Delevingne first debuted the cut in time for this year's Met Gala, where she wore a choppy, fitted wig to play homage to Karl Lagerfeld. Days later, though, her Instagram revealed that she did indeed say farewell to several inches of blonde waves underneath the snowy white hairpiece. At the time, in late May, her bob cleared her shoulders by at least an inch or two. It appears to have gotten steadily longer over the summer, so there's a chance she's already over it.
The ongoing short haircut craze has seduced more than a few celebrities throughout 2023, including Zendaya, Emma Stone, Halle Berry, Kim Kardashian, Jennifer Love Hewitt, and Hailey Bieber. Plenty of others like Anne Hathaway, Jodie Turner-Smith, and Megan Fox have played around with temporary versions of the look, using experimental wigs and other hairpieces. It's easy to see why the maintenance/high payoff look would be attractive to so many, which would also explain why Delevingne's done with it (if that is indeed the case). Have you ever seen Delevingne follow the crowd, ever? She was born to stand out.