Gaby Solis Would Be *Obsessed* With Eva Longoria's Sharp New Lob
@evalongoria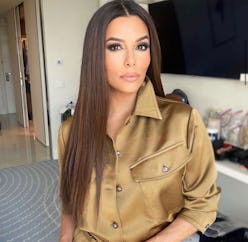 The secret to true multi-decade success as a celebrity? Always keep your audience guessing — that goes for movies, brand deals, and aesthetics alike. Eva Longoria's a pro at playing the long game, but she always flanks her surprises with a winking nod that lets fans know she's having as much fun as they are. Her latest move, unveiled at a glittering Cannes party, is as good a reminder as any to stay on your toes around the star — she's always experimenting. Eva Longoria's lob "haircut" is 16-inch chop minimum, taking her rib-skimming, extension-enhanced highlights all the way up to her collarbone. Instantly transforming her entire look, it's a fresh, invigorating change for the star. The best part, though, is that it didn't actually require any actual change at all.
The actor-entrepreneur revealed the dramatic cut on her Instagram page Wednesday night, captioning it simply (and somewhat cryptically) with just a handful of starry emojis. On her feed, it sits directly next to a shot of the star from the day before, her long, caramel ribbon-brunette hair center-parted and straightened. The contrast is striking and seriously chic, adding intensity and definition to her sculpted contour and smoky eye makeup applied by Ash K. Holm — not to mention her silver jewel-encrusted gown.
Longoria with long hair, taken one day earlier on May 23.@evalongoria
Celebrity hairstylist Dimitris Giannetos is the mastermind behind Longoria's quick change, posting several close-up photos of the look over on his own page. There, he revealed that Longoria's short haircut was actually some sleight of hand. Though Giannetos isn't giving away his exact secret recipe for the one-night-only chop, he credits L'Oréal Paris products and Sway Hair Extensions for helping bring it to life.
Just when fans though she committed to the short, sophisticated cut for summer, Longoria popped back up on Instagram Stories the next day to share a peak and her next look: a long, high-sitting ponytail styled by Luke Pluckrose.
And there's Longoria's conspiratorial smile again — who knows what she and the team have planned for the rest of the film festival?