Here's The Story Behind Beyoncé's Custom Thigh-High Tour Boots
One Renaissance look was a nod to Destiny's Child.
sample attribution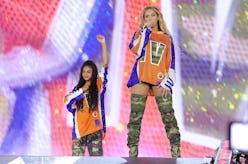 By the time Beyonce's Renaissance Tour wraps up in October, according to Forbes, it's predicted to have earned nearly $2.1 billion. Suffice it to say, her concerts induce a feverish energy with fans across the globe. The same came be said for her glamorous performance looks, which are often custom-made for the singer. A few red-hot outfits thus far? A fierce bee moment courtesy of Mugler, as well as a gleaming Loewe catsuit, both of which have been dominating certain social media conversations for weeks. But in general, any Queen Bey lewk is likely to create buzz. So, you can imagine shoe designer Giuseppe Della Badia's sheer joy when Beyoncé's team contacted his brand, Gedebe, in April 2023 asking him to create boots exclusively for the shows. "At first, we couldn't believe it," he tells TZR about the request, adding that the Italian footwear label has always wanted to work with the musician.
The Gedebe team collaborated closely with the singer's top-notch team of stylists, including Karen Langley, Shiona Turini, Tara Greville, Julia Sarr-Jamois, and KJ Moody, on several options. (It truly takes a village to design tour looks!) They honed in on Gedebe's signature thigh-high silhouettes but adjusted to accommodate Bey's needs while dancing and singing. The must-have details included comfort and strategic use of color, as the hues needed to coordinate with her other performance outfits. Gedebe even ensured a perfect fit by using Beyoncé's foot measurements to create an exclusive shoe mold — in other words, the styles fit her and only her. Now that's what we call custom-made.
Kevin Mazur/WireImage/Getty Images
Kevin Mazur/WireImage/Getty Images
While the silhouettes are exclusive Beyoncé, there's no mistaking each pair was made Gedebe. The brand took care to inject some of its popular details, like crystals and reflective fabrics, into each one-of-a-kind design. "We re-adapted iconic Gedebe styles, like the Logan Cuissardes, in a more performing version and created brand-new shapes just for Beyoncé," Della Badia adds, sharing how the label worked with Bey's stylists to conceptualize the unique accessories, including oversized crystal-covered stompers and a scrunched-up, silvery style that matched the star's Courrèges bodysuit. She wore this latter combination while performing on opening night in Stockholm.
Gedebe designed more than a dozen thigh-high boots for Beyoncé's tour, but ahead, TZR breaks down three show-stopping creations and the stories behind them. (And trust us, picking out our favorites was no easy feat.)
Camouflage Print
Bey's bedazzled blue-and-orange jersey was an incredibly special look as she twinned on stage with her daughter, Blue Ivy, at the East Rutherford, New Jersey, concert. As it turns out, that wasn't the only sentimental aspect of the night. "The camouflage pattern [on the boots] were a re-edition of the iconic 'Survivor' [music video] looks Destiny's Child wore in 2001," says Della Badia. Gedebe partnered with the Ivy Park styling team to mastermind the nostalgia-inducing style, which featured 60,000 crystals and a combination of six different colors to create the unique green you saw on stage.
Glittery Purple
The custom-made Logan Cuissardes skin-tight boots Bey donned at her Minneapolis show held paid homage to Prince and his hometown of Minneapolis via a vibrant purple shade. (Beyoncé performed with Prince at the 47th Annual Grammy Awards, which was a pivotal moment in her career as she was taking off as a solo artist at the time.) "For this extra shimmery purple moment, the very first from the beginning of the world tour, 50,000 light rose crystals were applied on an impalpable purple mesh to create an extraordinary shiny effect," Della Badia notes.
Cargo Style
Leave it to Bey to rock not cargo pants but cargo boots while in Washington, D.C. "We used more than 60,000 sapphire crystals to cover the baggy boots that perfectly matched the Off-White bodysuit," explains Della Badia. "The pockets are an addition from Off-White to give an extra cargo vibe to the style I designed." In other words, don't be surprised if you start noticing pocket-heavy boots saturate the market in six months — just call it the Beyoncé effect.