The Big Business Behind Concert Costume Design
From how it's made to who pays for it all.
Kevin Mazur/WireImage/Getty Images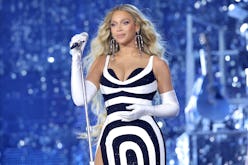 Back in May, Beyoncé set the tone for her couture-stacked Renaissance World Tour by sending her ardent fans into a frenzy. Opening the Sunderland, England show with "Dangerously in Love 2," Queen Bey made her way around the runway-esque stage in a bespoke sky-blue ensemble by Brandon Blackwood — an early treat in her still-proliferating rollout of thrilling concert fashion.
"We created an asymmetrical one-shoulder gown with a deep side-slit and 3-foot full-length train — all made out of liquid organza," says Blackwood, via email. He also custom-designed matching opera gloves and heels for an iridescent monochrome effect, enhancing the impact of Beyoncé belting out her power ballad. Like lightning in a bottle, the one-of-a-kind music-meets-fashion moment reached all parts of the world — and quickly.
The next day, Blackwood posted on Instagram "Y'all have been shopping!!! Sooo many styles are selling out." Per a rep, the New York City-based brand — which launched in 2015 with handbags (and later expanded to outerwear and shoes) — immediately experienced a "boost" across categories. Google searches for the label more than doubled globally in the month afterward, while queries for "Brandon Blackwood sale" spiked 590%. Of course, the BeyHive couldn't cop her exact blue dress, as it was custom-made just for her (and the brand's ready-to-wear won't launch until 2024). But, Beyoncé posting herself toting Blackwood's black and white checked Mini Kendrick Trunk in June caused a run on the handbag, allowing dedicated fans to finally cop the same item as their idol.
Designing for a performer on stage could not be more different than creating clothes for the general consumer. It is difficult — if not impossible — for a brand to scale and mass produce a couture concert look, and there are completely separate factors to consider. "When it comes to custom designs, the artist is ultimately allowing you to create their representation of their body of work and with that comes a big responsibility," explains Blackwood. "Whether it's a colorway, how the piece is formed, or what the piece should be representing — all of that goes into account."
An artist, most likely through a stylist, connects with a designer to collaborate on a custom look that illustrates the theme of the tour and/or album. The ensemble expresses, if not heightens, the performer's trademark sartorial persona. The outfit needs to pop on stage — especially for large arenas — and may also need to withstand heavy choreography (i.e., include lots stretch and flexibility). The stylist usually liaises directly with the designer to brainstorm, discuss sketches, and make tweaks along the way, while consulting with the client. They'll also conduct multiple fittings with the talent; sometimes during rehearsals to test out the stage-readiness.
"Our goal is always to make them feel confident, to look good and to really be the final stitch in their overall moment," continues Blackwood, who worked with stylist KJ Moody on Bey's glamorous blue gown. "We are essentially aiding their voice, and it's a very important task for us."
For her Diamonds & Dancefloors tour, "Million Dollar Baby" singer Ava Max and her stylist Danyul Brown cast a wide net for custom looks. They met with a slew of designers, in New York and Montreal, plus held virtual sessions with European creatives. But Max and Brown landed closer to home with Los Angeles-based Michael Ngo after seeing his stage-ready crystal work in person. "Ava's [approach] is so exciting and flamboyant — all around fabulous, 24/7," says Brown. "So with the whole 'diamonds' [vibe], her intention was to just really elaborate on that intended aesthetic: sparkle, sparkle, sparkles, glow."
Ngo, who's also created on-stage looks for Lil Nas X, Ariana Grande, Lizzo, and Blackpink's Rosé and Lisa, custom-designed a versatile crystal-encrusted set: a long-sleeve shrug, cut-out bodysuit and pleated skirt. With versions in silver, red, black, purple, and blue, Max would select a colorway based on the city, like Union Jack blue to kick off the U.K. leg — or just her mood that night. (Her backup dancers always wore versatile white.)
Brown explains that a bespoke look establishes a signature, easily identifiable "uniform" evoking that particular album, tour, and entertainer in that period of their career. So, the finished product must ride the tricky line of being unique and special to the artist but universal enough for fans to recreate. Distinctive stage costumes essentially offer an invitation to fans to collectively share their excitement and join a community — like Avatars doing their own versions of Max's Ngo look for concerts.
Just look to all the "how to dress for a Beyonce/Taylor Swift concert" TikToks and posts over this summer, too. Swifties continue to celebrate the many stages of the 12-time Grammy winner's artistry, from Fearless gold glitter to Lover-referential fringe and sparkle to Folklore-ic boho, plus cowboy boots for all.
But this level of couture-meets-performance-pageantry isn't necessarily new — even if it feels unprecedented (again, see Swift's Eras Tour). Madonna pioneered the intersection back in 1989 when she personally called Jean Paul Gaultier to design costumes for her game-changing 1990 Blond Ambition tour — complete with a $2 million stage and voguers from the New York City ballroom scene. The Queen of Pop's cone-bra corset leotard by Gaultier remains forever iconic, and the two have continued to collaborate on and off the stage for three decades — and counting — since. Earlier this summer, Madonna even teased a return of the cone-bra for her now-postponed Celebration Tour.
"Madonna really [established] the way that we see fashion collaborations in tours now. Way before me, she broke that ground with John Paul Gaultier," says Oscar-nominated costume designer Arianne Phillips, who styled six Madonna tours, starting with 2001's Drowned World. "When I started, and certainly with Madonna, it was a very rare and special day when you could get custom-made pieces for an artist."
Phillips explains that Madonna's shows are tantamount to "a theatrical experience" and tend to follow a four-act structure, each with its own motif and related elaborate costumes. "Whether it's literature or film or art [influences], she gets to become these characters in her tours," says Phillips. For her final Madonna tour, 2015's Rebel Heart, Phillips went out with a bang to honor each of Madonna's, well, eras. Phillips collaborated with Jeremy Scott of Moschino for a bodysuit and gloves dripping with Swarovski crystal fringe, appropriately, for "Material Girl" and Nicolas Jebran for an elaborate corseted matador costume for "La Isla Bonita." Prada also custom-designed gingham ruffled crop-tops, cuffed dark jeans, and pointy wingtip creepers for a "Tokyo Rockabilly" theme.
Through a recommendation from fashion critic Suzy Menkes, Phillips also took a chance on a then-newbie, Alessandro Michele — fresh off his sophomore collection as creative director of Gucci (and years before becoming Harry Styles' favorite tour designer). Michele's Resort 2016 confections charmed with bold embroidered flowers and cheeky graphics, sheer lace paneling, and tiers of floaty ruffles. His runway vision perhaps portended the eclectic vagabond-chic layered top, fringed scarf and flounce skirt for Madonna to perform "Who's That Girl" and "Rebel Heart." "Madonna really responded to the designs that he proposed," says Phillips, emphasizing the superstar's continuing support of up-and-coming designers. "That tour was one of the best collaborations that I ever did with her."
Tours, however, last for months — even years — and wardrobes need to be maintained. Phillips would usually travel for the first five shows with Madonna, who also relies on a full-time dresser, Tony Villanueva. "He's dressed every diva from Janet Jackson to Patti LaBelle to Cher to Pink to Katy Perry," says Phillips. Villaneuva and his team have perfected the process of fast-as-lighting quick changes between sets.
Katie Qian remains on call from her base in Los Angeles for necessary maintenance for clients including Conan Gray and Niki. "There's so much heavy dance, so some things need to be patched up at times," says Qian, who styled Hayley Kiyoko's Panorama tour earlier this year. Plus, wearing the same thing every night for months on end can become a grind. "Oftentimes, when Madonna would be on the road, I would get a phone call from her a couple months in, saying 'I'm bored. I want something new,'" says Phillips. "We would, halfway through the tour, usually refresh some things."
In general, stylists, who work on a freelance basis, don't have the bandwidth to accompany clients for a full tour. For example, Candice Lambert McAndrews recently multitasked Garbage's summer tour and Kelly Clarkson's Las Vegas residency. With 16 artists on his roster (and some touring simultaneously), Brown sometimes will send assistants if quick change help is needed regularly. "I wish we could clone ourselves and be in 10 places at once," says Brown, who did go on the road with Yungblud for six months once, but for a packed schedule of performances, red carpets, and promo appearances.
Indeed, a vast amount of time, care, and labor that goes into the fashion on a full tour. Which brings us to the elephant in the room: Are custom concert looks bought or gifted? "It really depends on the situation and the designer," says Phillips, who emphasizes that Madonna would purchase from smaller brands that didn't have the marketing budget. "It can range from everything [gifted] outright [to purchased]. These [gifted] collaborations are really generous, and there's an offset with marketing on the designer side and press on the artist side."
Beyoncé is also known to financially support emerging designers. For a video shown during the Renaissance shows, another of Beyoncé's tour stylists, Shiona Turini, reached out to KWK by Kay Kwok for a futuristic metal-plated harness from the Spring 2023 collection. In discussions with Turini, the Hong Kong-based designer customized the sculptural wrap-around-hands to be 3D printed as "light as possible, as danceable as possible," writes Kwok via email. He also confirms that Beyoncé's team purchased it: "That supports the creative design of a [small] brand like us. As you know, basically Beyoncé could have anything from any brand. We die to design for her!"
Kwok, who's created stage costumes for Hong Kong stars like the late Coco Lee, also enjoyed the Beyoncé effect, garnering multiple interviews and increased engagement on Instagram. "And more buyers from the fashion industry are interested in our brand," he says.
To outfit Garbage lead singer Shirley Manson this year, Lambert McAndrews commissioned three custom looks, including two contrast-striped grunge-chic tuxedos, from British bespoke tailor and milliner Sara Tiara. "We paid for those," says Lambert McAndrews, who also mixed Asos, All Saints, and Commes des Garçons ready-to-wear and vintage into Manson's wardrobe. "I try to buy as much as I can. I do get gifted a lot of things, but I also feel — especially if it's a really small designer and they don't have a lot — either you tag the hell out of them, or you pay them."
For artists on a non-Beyoncé budget, stylists may need to strategically allocate funds around one custom-design splurge and purchased pieces. For Kiyoko's Panorama, Qian planned hers around a custom studded and sheer organza shirt by Julian Méndez, who's also designed for Beyonce and Megan Thee Stallion. "Hayley just wanted it to look really original and really different. So we did end up mixing some pattern material in, which really took the look to the next level," says Qian, who then "divvied up" the budget to buy cool ready-to-wear, like vibrant sets by Collina Strada and The Incorporated and a sparkly, heart-shaped crop-top by Area.
Unlike styling for the red carpet (or costume designing for the screen), borrowing or renting a piece proves tricky for tour wardrobe, especially with all the physicality involved. "It has to be out for so long," says Qian. "And, it's going to be sweated in and maybe ripped."
The Blonds regularly custom-design dazzling performance looks, like studded and crystal-embellished catsuits for Lizzo's recent Special tour. Their past showstoppers also include performances for Madonna, Beyoncé, Katy Perry, and Jennifer Lopez, which are featured in "The Blonds: Glamour, Fashion, Fantasy" exhibition at Atlanta's SCAD Fash Museum of Fashion + Film (running through Jan. 28, 2024). The New York City-based fashion label also rents out archival pieces for editorial, filming and concerts — but with a guard in place. "There is always an agreement or letter of responsibility in place to cover any case," says David Blond in an email.
Contemporary brands may also loan for one-off outings. For instance, Blackpink tends to cycle out "fresh looks" for each performance, explains Tia-Marie Yan, PR manager of celebrity & VIP for Retrofête, via email. Earlier this year, Yan pitched the K-pop group's stylist, Minhee Park, with linesheets, lookbooks, and links to the Los Angeles brand's site. Park then pulled her top choices for the Kaohsiung, Taiwan, stop on the Born Pink tour. (Yan confirms that items are always returned.) Yes, a Blackpink outing always involves dynamic choreography, but the risk is totally worth it.
Group members Jisoo and Rosé immediately 'Grammed their Retrofête looks, earning 5.5 million and 6.8 million likes, respectively, on Instagram (so far). Granted, neither tagged the brand, but Blackpink fans — aka "Blinks" — are fervent social media sleuths. "This loyal fan base has been successful at finding our pieces within just minutes of seeing the look — resharing, tagging, and crediting Retrofête," says Yan.
It's easier for stylists to have much-needed shoes sponsored, perhaps because of the direct conversion to sales. "Shoe brands will give me lots," says Lambert McAndrews, acknowledging Converse, Adidas, and Frye for their generosity. For Kiyoko's tour, featuring choreo and backup dancers, Hoka sent "a bunch" of sneakers, which Qian then personalized for her client. "We got them bedazzled," she says. "Hayley really loves to wear [those] every night and then for the other dancers, we put little beads on the laces."
Hosiery and foundation garments are also key: Luxury brand Wolford supplied ready-to-wear and custom tights for Beyoncé throughout the Renaissance tour. "Wolford has had a relationship with them for years," confirms a representative in an email.
Every element of the concert tour look helps create the magic that connects the artist to their fans (and vice versa) — and helps radiate that communal excitement across the country, and the world. "A really good vibe to have is that you would want someone to reenact this on Halloween," says Brown, about pulling off iconic performance looks that continue to resonate after the tour concludes.
"Honestly," he says. "Tours have been some of the best days of my career."