Beyoncé's 'Tiffany Blue' Eyeshadow Matches Her Custom-Made Gown On The Renaissance Tour
@beyonce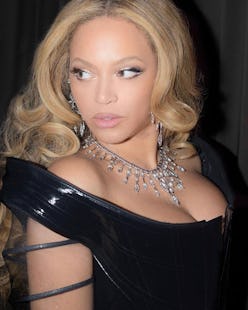 Even if you're not among the lucky few able to snag tickets to see Beyoncé's global Renaissance Tour in person, the show's attention to detail and overall visual weight are palpable through the phone screen. The 20-foot holographic horse, the fleet of acrobatic background dancers, and the intricacy of Bey's never-ending costume changes make it clear — this tour benefitted from some serious planning. That approach applies down the the tiniest details, including hair and makeup. Beyoncé's blue glitter eyeshadow hasn't been incorporated into every concert stop, making it a fun treat for the truly blessed group who got to experience it IRL. The coolest part of her festive look, though, is just how well it ties the entire themes of her Renaissance era so neatly together.
Beyoncé's expertly-applied blue eyeshadow popped up for both of her back-to-back Chicago tour dates, featuring a bright diamond-blue shade close to her last line that softly fades just past her lid crease. Thanks to the rest of her elegantly minimal makeup, the bold pop of color gets even more attention. Celebrity makeup artist Rokael Lizama has been doing Beyoncé's stunning makeup all along the Renaissance Tour, and though he didn't upload any photos from Chicago specifically, it's safe to say he's the force behind this twinkling glitter, too.
Interestingly, one of the shows with the blue eyeshadow also featured a new Tiffany & Co. Giles Deacon dress designed just for Beyoncé. Of course, she's the face of the iconic jewelry house, which celebrated her New York tour stops with the release of their new, Beyoncé-curated Return To Tiffany collection. Tiffany & Co. is also the official jewelry sponsor of the Renaissance Tour — count the carats she's wearing during any given song and prepare to be amazed.
But even with her high-profile collaborations aside, the blue eyeshadow makes a lot of sense. So much of the star's current Renaissance era is built around a fusion of Studio 54-era disco and Beyoncé's Black southern heritage, with an added dollop of intergalactic futurism. Think about the real white horse from the Renaissance album art, an allusion to Bianca Jagger's legendary nightclub entrance — but Beyoncé's astride the animal in a sultry, jewel-studded space suit rodeo outfit. Of that same token, it doesn't get much more '70s disco than an impossibly luminous wash of bright blue eyeshadow, and the holographic glitter that makes it stand out on stage feels straight out of 3023.
There's also just the reality that Beyoncé loves blue eyeshadow. Some of her best looks from the '90s and '00s include baby blue lids, while she's gone for deeper shades and more complicated techniques in projects like the "Mine" and "Blow" music videos. The color blue has always held a special place in Beyoncé and Jay-Z's life (obviously), and it's always sweet to see it incorporated into her work.