The Best-Ever Grammys Beauty Moments Are As Iconic As The Stars Themselves
No one does makeup like a musician.
Dan MacMedan/Getty Images Entertainment/Getty Images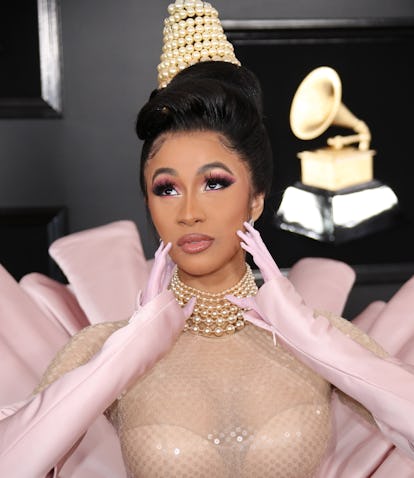 If there's one profession that can really appreciate the power of a creative, show-stopping red carpet makeup moment, it's musicians. Natural performers, the musically inclined always find a way to infuse pure creativity into their award show moments, be it with a standout lipstick or a full-on cosmetic costume. It makes sense then that so many of the greatest makeup moments of all time would happen at the Grammys, music's biggest night. The best Grammys beauty moments span decades and genres — Kelly Rowland, Selena, Dolly Parton, and Taylor Swift, for example, might seem so different sonically, but they all know how to dominate the red carpet in their own way.
The best Grammys beauty moments span decades, beginning with the very first red carpet-preceded ceremonies in the '60s. Examining the beauty looks from every year is some of the best insight into the trends of the day — Dolly Parton's sunkissed '70s makeup, Whitney Houston's fabulously feathered '80s haircuts, the beachy glamour of '90s-era Mariah Carey, and the loud-and-proud aesthetics of contemporary stars like Billie Eilish and Cardi B tell you as much as a textbook could.
With the 64th Annual Grammy Awards right around the corner — 8 p.m. ET on April 3, to be exact — there's no better time to revisit the most iconic makeup and hairstyles from the Grammys of yesteryear.
Ahead, scroll on for some of the all-time greatest Grammys beauty looks.
Dolly Parton, 19th Annual Grammy Awards
All roads lead to Dolly. This look from 1977 is still so on-trend, from the volumized hair to the long, doll-like lashes — fitting!
Whitney Houston, 28th Annual Grammy Awards
Whitney Houston's classic makeup and big, swooped hair were worthy of awards, too.
Sinead O'Connor, 31st Annual Grammy Awards
Sinead O'Connor's relationship with the Grammys is famously strained (she's actually the only artist to ever refuse a Grammy award, calling the Recording Academy unfairly exclusionary and biased), but the musician-activist's signature shaved head on the red carpet, itself a conscious act of defiance, will forever be iconic.
Paula Abdul, 32nd Annual Grammy Awards
Paula Abdul's cheerleading roots come through in her shimmery, scrunchie-topped look at the dawn of the '90s, and her era-perfect makeup (the terracotta blush! the amazing brown lipstick!) completes the retro package.
Mariah Carey, 33rd Annual Grammy Awards
Mariah Carey stunned at the 1991 Grammys, where she wore her honey blonde hair curled with a very early '90s nude lip.
Selena, 36th Annual Grammy Awards
The iconic Selena Quintanilla-Pérez appeared at the 1994 show with a cascading, curled updo and her signature makeup look, rich brick red lipstick. It's been nearly 30 years and the consensus remains — anything for Selena.
Britney Spears, 41st Annual Grammy Awards
If you were around in 2000, you know that Britney Spears' sleek-haired Grammys look made everyone you knew run out and buy a new flat iron.
Destiny's Child, 44th annual Grammy Awards
Beyoncé, Kelly Rowland, and Michelle Williams hit on so many 2002 beauty trends: chunky highlights, sheeny lip colors, and frosted eyeshadow.
Jennifer Lopez, 53rd Annual Grammy Awards
It's hard to beat J.Lo's green dress from the 2000 Grammys, but if you're looking at hair, this long, perfectly highlighted style from 2011 is the pic to bring to your colorist.
Adele, 54th Annual Grammy Awards
Between Adele's Old Hollywood hair, red lips, stunning cat-eye, and six awards, a star was born.
Lady Gaga, 52nd Annual Grammy Awards
Lady Gaga had just burst onto the scene when she attended her first Grammy Awards in full Fame Monster-era regalia. Believe it or not, her dip-dyed yellow wig, smoky eyes, and mod-pink lipstick made up just one of her looks that evening.
Cardi B, 61st Annual Grammy Awards
Cardi B and Mugler are a match made in heaven — and what hairstyle would you wear with vintage Mugler other than a pearl-covered beehive?
Billie Eilish, 62nd Annual Grammy Awards
It's safe to say that nobody could pull off neon-green-and-black hair like popstar Billie Eilish. Even with her face obscured by a semi-sheer Gucci mask, this look is all-time.
Taylor Swift, 63rd Annual Grammy Awards
Taylor Swift showed up to collect her record-breaking third Album of the Year award in a wildflower-themed outfit matching the motifs and aesthetics of her album, Folklore. Her makeup, all rosy-bronze and cottagecore, mushroom blonde hair help complete the effect.
This article was originally published on