Angelina Jolie's White Summer Dress Is The Type You Can Just Throw On & Go
It also makes you look instantly put-together.
COBRA TEAM / BACKGRID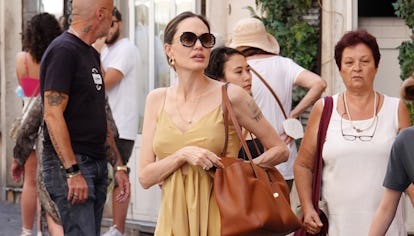 We may receive a portion of sales if you purchase a product through a link in this article.
New York City is always a pit stop for West Coast-based celebs as they pop into town for quick shopping trips, work meetings, and even vacations. And this month alone, the star sightings have been nonstop. While that is mostly thanks to the 2023 Met Gala, we've also seen Jennifer Lawrence in the city on Mother's Day, and Meghan Markle and Prince Harry in town for Women's New York City gala. Now we can add Angelina Jolie and her daughter Zahara Marley Jolie-Pitt — spotted outside the Greenwich Hotel on May 18 — to this list. It was quite the rare sighting as the actor hasn't been pictured with Zahara in quite a bit since she went off to Spelman College back in August 2022, but what most caught our attention was Jolie's white summer dress and platform sandals. Together, they are the ultimate throw-on-and-go look for this season.
Although we don't know exactly where the duo was off to or even why they're in town this week (perhaps Zahara is on summer break from school?), we did track down the exact pieces Jolie is wearing: the maxi is Brunello Cucinelli and the sandals are Chloé. Both pieces reflect a sense of ease and elegance, a balance Jolie has evidently mastered. Around this time of the year, you can typically find the humanitarian in a breezy linen set, a no-frills LBD or white dress, or even just a simple tee and trousers combo.
Jolie accessorized her look with several nondescript bracelets and earrings. She also added a bit of color to her neutral silhouettes by way of a pale yellow structured tote. A suggestion: The next time you're stuck on what to wear, whether it be for a day out with your kids or even to the office, just look to the actor's white summer dress and coordinating studded sandals for inspiration. The two staples make for a quick and easy formula anyone can copy in a hurry. Shop her exact pieces ahead, along with similar accessories, for your own styling purposes.