You Need To Try Meghan Markle's Highlights Technique For Subtle Color
That signature Markle sparkle.
ANGELA WEISS/AFP/Getty Images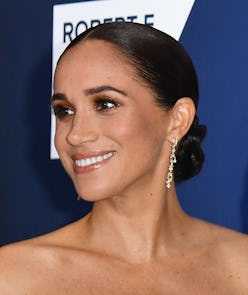 At this point, it's just an inevitability that comes with being Meghan Markle. No matter where she made her first public appearance with Prince Harry post-royal coronation, there would have been ear-shattering buzz — but the fact that she turned up on the red carpet looking so chic? That's next-level tabloid fodder. At the Ms. Foundation For Women's New York City gala, she looked especially radiant dressed up in a metallic gold gown with pops of matching illuminator adding noticeable glow her cheekbones and nose tip. Meghan Markle's red-toned highlights, a relatively recent addition to her look, were on full display, too, pulled into a deep, sultry side-part that gave way to long, polished waves flowing just past her dress bodice.
At the event, Markle was joined by her husband, Harry, and her mother for a celebration of strong women everywhere. Her touching speech upon accepting the Women of Vision Award, which was presented to her by Gloria Steinem, is already circulating on social media. "It's never too late to start," Markle told the crowd. "You can be the visionary of your own life." With her head high and her highlighter-dusted shoulders back, she's about as regal as it can get.
Proving you can serve up a season's worth of beauty inspiration while honoring a feminist agenda, Markle's golden-and-glowing look from the gala has already been screenshotted and shared to group chats ad infinitum — consider this the gold standard (pun intended) for summer events. Two chief elements are in play here: the careful, subtle weaving of her red-tinted highlights, and the strategic placement and tone of her highlighter. Markle's hair concentrates most of the color at the very front, particularly around her face — it's the same style of highlights worn by fellow A-list humanitarians like Amal Clooney and Angelina Jolie.
While the reddish highlights add even more dimension and brightness around Markle's face, her gold highlighter ties it all together. She has warm, golden undertones in her always-immaculate skin naturally, which is further emphasized by the makeup, which was applied by celebrity artist Daniel Martin. It looks like the highlighter is primarily focused on the high points of her face and body: nose tip, cheeks, shoulder tops, and her collarbone.
Maybe now that the coronation dust has settled, fans can expect more public Markle sightings? With hair and makeup always this excellent, one can only hope.