Amal Clooney's New Side-Bangs Are A Quietly Powerful Tweak To Her Entire Look
It doesn't get better than this.
Robert Kamau/GC Images/Getty Images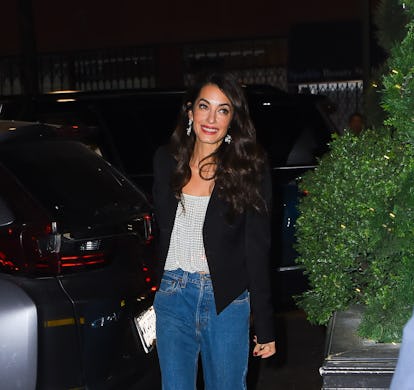 Are they pumping something through the air vents in every celebrity hotspot on Earth? What can possibly begin the explain the veritable wave of major haircuts cropping up at every red carpet, on every trendy street corner, every fashion party, runway show, and luxury farmer's market? It's an inescapable sensation at this point, and it just came for Amal Clooney's long chestnut waves. Seen strolling into a New York restaurant with a girlfriend, it looks like Clooney had long side-bangs cut, adding more layering and volume for an overall freshened-up effect that's low on commitment but high in aesthetic payoff.
Clooney's penchant for more timeless looks in general means hair changes are few and far between — when they do occur, though, they're always a subtle but brilliant move. In the case of her new bangs, they follow her usual soft side-part, falling right at cheekbone level before gently blending in with the rest shiny blowout. The cut comes on the heels of the warm, nearly red-toned highlights she acquired toward the start of summer, which gave her rich natural color a sun-illuminated glaze. Overall, it's the sort of quietly powerful tweak everyone secretly hopes for when sat in that salon chair.
The look's impact is most notable when compared to her hair just a few weeks ago. There at the Venice Film Festival (which she attended with her husband, pictured just below) most of her curls were the same length, set in her same side-part and styled with retro influence. Clooney's street style — both her fashion and beauty choices — is more low-key than her overtly glamorous red carpet looks, but the bangs add an undeniable star quality to even the simplest outfits — not that you'd call a $21,000 Prada mini-dress simple or anything.
Fans know that Clooney's style is actually growing bolder, practically by the week. She's getting more experimental with vintage hairstyles, exploring makeup looks outside of her beloved red lipstick, and showing her impressive wardrobe versatility. Invigorated by her new haircut, there's no telling what her next red carpet moment might hold.