Katie Holmes' Trendy New Haircut Ended NYFW With A Literal Bang
Sean Zanni/WireImage/Getty Images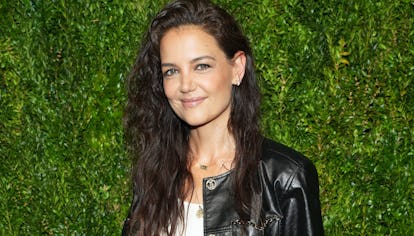 The number of all-time cool girls who turned out at New York's Indochine restaurant last night is enough to send any Tumblr user into a spiral. The special event, thrown By Chanel and W Magazine in honor of Coolest Of Them All Sofia Coppola and her new retrospective book, was populated by the type of style stars equally envied for their work and personality — but Katie Holmes' new blunt bangs were enough to really stand out, even among all that aesthetic prowess. For years now, Holmes pulls out one incredible look after another, embracing her edgier side with daring outfits and hyper-trendy hairstyles. While straight-across bangs are as timeless as it gets, she somehow manages to make the cut feel incredibly fresh, exciting, and even rather inspiring.
Long, piece-y, and delicately wispy, Holmes' new bangs were straightened to match the rest of her hair and were trimmed to hit the bottoms of her lashes for an alluring effect. Possibly enhanced by elbow-length extensions, the blended nature of her bangs and layers calls to mind fall's trending "hush cut" which is defined by its subtlety. By keeping the rest of dewy, pink-toned makeup on the more minimal side, all the focus is on her fringe.
Perhaps the most interesting thing about Holmes' new look is how likely it is to be an actual haircut. Though Holmes has been everywhere (sans bangs) this New York Fashion Week, it's not a stretch to imagine that she hit up a celebrity hairdresser — possibly DJ Quintero — for some snippage before the Coppola party. Holmes has fooled fans into thinking she took the haircut plunge plenty of times before, but really was just implementing the Hollywood-favorite fake bangs hack. But based on texture, volume, placement, movement — especially in other photos where her hair looks more tousled — it kind of looks like the real deal.
For those looking to recreate the look at home, it all hinges on just how thick the bangs are or aren't. In Holmes' case, they're wispy enough to show some skin through the gaps, which helps add a casual, versatile element that feels less committal than thicker straight-across bangs.
As temperatures cool down and the threat of forehead sweat minimizes, it's time to go for it — bangs season is night.