Word To The Wise: Adele Is Quietly Building The Coolest Collection Of Manicures
They're all so creative, too.
NIKLAS HALLE'N/AFP/Getty Images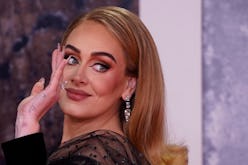 Adele's a woman of many talents, but she doesn't always get the credit she so rightly deserves. Yes, she's one of the most acclaimed acts in modern music with a trophy cabinet to match, but the world desperately needs to to wake up to her true superpower — her aesthetic sensibilities. Her Las Vegas residency, Weekends With Adele, yield completely different, thoroughly creative hairstyles for every set of shows and her custom-created gowns are always so inspired, but Adele's best manicures really prove the eye she has for all things beauty. Between her penchant for highly detailed nail art and the deep, sophisticated shades she favors, Adele's truly a one-woman showcase of every of-the-moment mani trend.
Already this year, she's treated fans to innovative takes on the French manicure, explored some of fall and winter's top polish colors, and got creative with cool, textural elements over more traditional looks. They're all so varied, but there are a few key components creating a through-line: she seems to love classic shades, going for neutrals like black, white, and nudes most often. But the times when she does break out of that box and opt for major color, she absolutely nails it.
Ahead, get acquainted with the unsung (so to speak) queen of incredible manicures, with a look back at Adele's latest and greatest nail looks.
Quarter-Panel Splits
When Adele debuted this trippy take on the French manicure, she had no idea the craze she was about to kick off. The look, created by celebrity nail artist Zola Ganzorigt, centers around one quarter of the nail painted a deep black. Against her gold-trimmed gown, part of the manicure fades right in to the background.
Engraved Gold Grooves
Talk about dripping in gold — between her 24k ring and hoops, Tiffany & Co. bracelet, gilded eyeshadow, and her metallic cheek highlight, Adele is practically reflective. Even among all that sparkle, though, her textured nails draw attention. Raised grooves running down the length of her oval-shaped manicure look like molten metal as she writes.
Chocolate Chrome Glaze
Even in their simplest form, chocolate brown nails are elegant, fun, and supremely trendy — but when they're topped with Adele's beloved chrome powder? The entire manicure ascends to a new level of luxe.
Classic French Tips
Adele returns to traditional pink-and-white tips time and time again, and with good reason. Especially when painted onto long oval nails — one of her favorite shapes — the crisp white tips pop against her signature black stage wardrobe.
Patriotic Stripes
To know Adele is to know her love for a theme. To cheer her home country on to victory in a major soccer tournament, she had tiny red and white English flags painted on her long, almond-shaped nails — the best kind of good luck charm.
The Ultimate Nude
The "Easy On Me" singer's look at the 2021 BRIT Awards is the ultimate example of why a true nude polish should never be underestimated. Painstakingly matched to the singer's skin's undertone, the polish is noticeably shiny and impossibly elegant.
Black-Tie Texture
As great as her classic black manicures are, this subtly textured design might be even better. Raised designs catch the spotlight as she sings at her Las Vegas Weekends With Adele residency concert, adding such a creative element without stealing the show.
Deep Red Velvet
Watching Adele's reactions in the audience was one of the best things about the 2023 Grammy Awards — her red velvet gown and matching nails was another. Rather than opting for a matte finish, her deep crimson polish is coated in chrome powder for an iced, glazed effect.